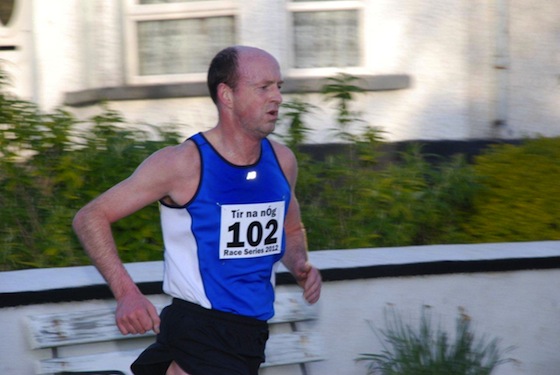 A beautiful Friday evening greeted all those running / walking the first of the TÍR NA nÓG 2012 Road Race series events.
The 5k event hosted over 70 competitors in the first of four events which take place over the next month in the Gortahork area.
The course for the first event extended from Pobalscoil Cloich Cheann Fhaola to Gortahork along the N56.
The fast flat course saw Buncrana man Conal McBride home first in an impressive time of 16.56, with Loughanure man Micheal Logue recording an excellent second place finish of 17.29 with Derryman Oran McBride in third place in a time of 17.42.
First women home was Termon's Nicola Doherty in a super time of 20.12 with Gaoth Dobhair women Noreen McGee second in 21.32.
The event was a great fun and community event. Competitors recieve points depending on their finish in each event and the top three finishers in each category will be presented with prizes at the end of the series.
The next race in the series (a 5 mile event) take place on Sunday, April 22nd at 11am with registration for runners / walkers in the Tir na nOg centre from 9.30am. So go on and get your trainers out and try the next event. For further information contact the centre on 074 91 62972 or Brian on 086 8218084.
FULL RESULTS BELOW:
                                                        Tír na nÓg Road Race Series
                                                Race 1 – 5k Gortahork- Friday 13th April 2012
                                                                Results
| | | | | | |
| --- | --- | --- | --- | --- | --- |
| Place | Time | Race Number | Name | Category | Club / Area |
|        1 | 16.56 | 121 | Conal McBride | S M | Buncrana |
|        2 | 17.29 | 136 | Michael Logue | Senior Men | Loughanure |
| 3 | 17.42 | 102 | Oran McBride | Masters | Derry |
| 4 | 18.27 | 101 | Seamie Ferry | Masters | Glasserchoo |
| 5 | 19.21 | 021 | Ryan Lafferty | Junior Men | Gortahork |
| 6 | 19.52 | 131 | Eugene Mc Cafferty | Senior Men | Gortahork |
| 7 | 20.01 | 132 | Michael o Fearraigh | Senior Men | Gortahork |
| 8 | 20.08 | 106 | Joe Casey | Masters | Falcarragh |
| 9 | 20.12 | 155 | Nicola Doherty | Senior Women | Termon |
| 10 | 21.06 | 061 | Kevin Mulhern | Senior Men | Cloughaneely |
| 11 | 21.24 | 135 | James Harkin | Senior Men | Falcarragh |
| 12 | 21.30 | 134 | Martin McGarvey | Senior Men | Creeslough |
| 13 | 21.32 | 147 | Noreen McGee | Senior Women | Gweedore |
| 14 | 22.20 | 125 | Michael Barry | Senior Men | Knockfola |
| 15 | 22.24 | 128 | Sean Sweeney | Senior Men | Falcarragh |
| 16 | 22.25 | 123 | Hugo Gallagher | Senior Men | Gortahork |
| 17 | 22.36 | 129 | Eddie McFadden | Senior Men | Falcarragh |
| 18 | 23.04 | 002 | Orla Henderson | Junior Women | Falcarragh |
| 19 | 23.22 | 022 | Neil Kelly | Junior Men | Falcarragh |
|        20 | 23.27 | 154 | Madge Whoriskey | Senior Women | Gortahork |
|        21 | 23.54 | 062 | Roseanne Boyd | Senior Women | Falcarragh |
| 22 | 24.08 | 142 | Evelyn Boyle | Senior Women | Ardsmore |
| 23 | 24.54 | 133 | Manus Kelly | Senior Men | Falcarragh |
| 24 | 24.52 | 105 | Pat Kelly | Masters | Falcarragh |
| 25 | 25.02 | 126 | Liam McFadden | Senior Men | Knocfola |
| 26 | 25.08 | 127 | Billy Crawford | Senior Men | Meenalack |
| 27 | 25.08 | 023 | Oisin Crawford | Junior Men | Meenalack |
| 28 | 25.11 | 150 | Bridget Moore | Senior Women |  Falcarragh |
| 29 | 25.31 | 024 | Ben Harkin | Junior Men | Termon |
| 30 | 25.31 | 157 | Sheena McCarry | Senior Women | Creeslough |
| 31 | 25.41 | 122 | Seamus o Donnell | Senior Men | Gortahork |
| 32 | 25.50 | 103 | Joe McClafferty | Masters | Gortahork |
| 33 | 25.51 | 130 | Aiden McGinley | Senior Men | Rosses |
|       34 | 25.54 | 145 | Sinead Doogan | Senior Women | Dungloe |
|       35 | 25.56 | 156 | Annette Toye | Senior Women | Creeslough |
| 36 | 25.57 | 137 | Eugene McGeever | Senior Men | |
| 37 | 26.26 | 146 | Ann Marion Sweeney | Senior Women | Dungloe |
| 38 | 28.10 | 152 | Aisling Cassidy | Senior Women | Gweedore |
|        39 | 28.12 | 144 | Margarite Bonner | Senior Women | Dungloe |
|       40 | 28.34 | 104 | Patrick Langan | Senior Men | Creeslough |
| | | | | | |
| --- | --- | --- | --- | --- | --- |
|       41 | 28.55 | 143 | Frances Greene | Senior Women | Ardsbeg |
| 42 | 29.18 | 151 | Carolann Cassidy | Senior women | Gweedore |
| 43 | 29.23 | 153 | Noeleen Doogan | Senior Women | Falcarragh |
| 44 | 31.12 | 124 | David Geeney | Senior Men | Falcarragh |
| 45 | 31.23 | 141 | Rose Finnegan | Senior Women | Falcarragh |
| 46 | 31.24 | 081 | Ashlene Doohan | Masters Women | Falcarragh |
| 47 | 32.43 | 040 | Mary Harding | Walking Women | Ardsmore |
| 48 | 36.28 | 051 | Dee Toye | Walking Women | Creeslough |
| 49 | 36.28 | 042 | Carmel Boyle | Walking women | Park Owen |
| 50 | 36.28 | 048 | Brid Doohan | Walking Women | Falcarragh |
| 51 | 38.11 | 046 | Noreen McGee | Walking Women | Magheroarty |
| 52 | 38.39 | 148 | Maire McLaughlin | Senior women | Baltoney |
| 53 | 38.39 | 149 | Anne Cannon | Senior women | Keeldrum |
| 54 | 38.50 | 050 | Pauline McGee | Walking Women | |
| 55 | 39.47 | 047 | M. NicAoidh | Walking women | Magheroarty |
| 56 | 40.09 | 041 | Anne Curran | Walking Women | Meenderry |
| 57 | 41.59 | 049 | Brid Barrett | Walking Women | Falcarragh |
| 58 | 43.32 | 001 | Cora Moore | Junior Women | Falcarragh |
| 59 | 43.39 | 043 | Evelyn Mulligan | Walking Women | Falcarragh |
| 60 | 43.50 | 045 | Anne Mc Fadden | Walking Women | Falcarragh |
|        61 | 43.52 | 044 | Maire Gallagher | Walking Women | Gortahork |
| 62 | 44.22 | 063 | Margaret Gallagher | Walking Women | Falcarragh |