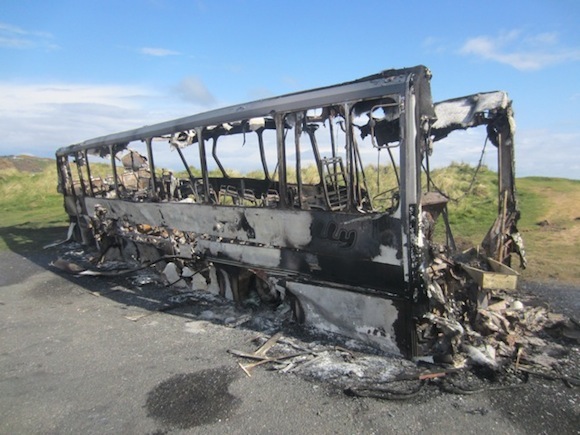 THIS is what is left of a Lough Swilly bus after vandals set fire to it in Inishowen.
The 50-seater vehicle is nothing more than a shell after the blaze near the beach at Culdaff.
Local people say they are shocked that recent acts of vandalism in the area have escalated to this.
"It is just beyond comprehension," one local mother told donegaldaily.com today.
"It's very hard to understand the mentality of the people who would wantonly destroy property like this."
A neighbour told us: "Culdaff is one of the most beautiful places in the country and it is being destroyed by mindless idiots.
"When you see that (bus) sitting there, it's like we live in a warzone. It isn't exactly a great advertisement for tourists either."
Local Gardai are investigating the incident and have appealed to anyone with information to contact them at Carndonagh or Buncrana.
Tags: