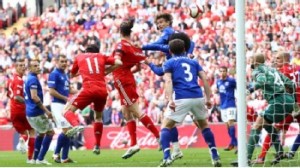 KILLYBEGS soccer star Seamus Coleman missed out an a first Wembley FA Cup Final today after his error lead to the winning goal for Liverpool in today's semi-final.
The Everton dynamo was brought on in the 68th minute six minutes after Suarez had equalised Jelavic's first half goal.
And he was lucky to stay on the pitch, picking up a yellow card for a rash challenge.
That was followed by another foul that led to the goal.
Seamus was lucky to escape that second caution when he clattered into Gerrard but Liverpool took full advantage.
Craig Bellamy, on for Downing, whipped in the 87th-minute free-kick and Carroll flicked in a header.
Liverpool could even afford for another substitute Maxi Rodriguez to hit the post from close range as they booked a third appearance at Wembley in three months and kept their season alive.
For Everton, however, their priority now will be finishing ahead of their local rivals in the Barclays Premier League, something they have done only once since its inception.
Tags: