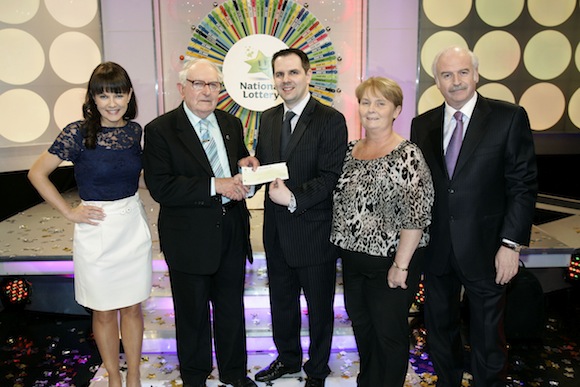 A CO Donegal plans to splash out on a new car and pay off some bills after scooping €49,200 on the Winning Streak TV Gameshow at the weekend
Thomas Monaghan from Lettercran, Pettigo, won the cash on Saturday evening.
He is pictured here at the presentation of winning cheques were from left: Gerri Maye, Gameshow host; Thomas Monaghan, winning participant;Nigel Scully,Head of Sales, The National Lottery; Fidelma O'Riordan, The National The selling agent from Gallaghers Post Office, Main Street, Pettigo, Co. Donegal and Marty Whelan, Gameshow host.
Thomas was born and bred in Donegal and his late wife was from Co. Tyrone.  They lived in New York for 25 years and returned home to Donegal in 1979.
They had one son who is also called Thomas. He is retired for the NY Police Department.
Thomas drove a bus in New York for 23 years and retired in 1978. He buys several Scratch Cards every week.
Thomas says he would like to change his car and pay some bills.