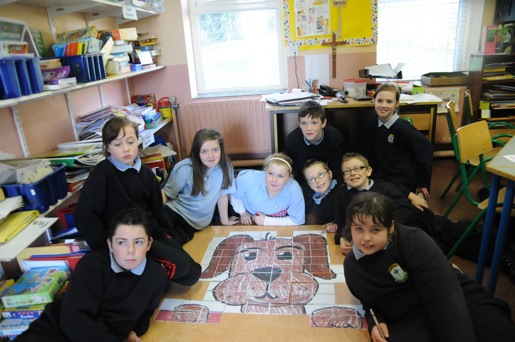 A Donegal primary school has scooped the top prize at this year's Show Racism the Red Card Creative Competition.
St Eunan's in Raphoe won a laptop for their school in recognition of their innovative mosaic of signed cards from high profile people, including the Taoiseach Enda Kenny, manager Martin O'Neill and footballer Shay Given.
More than 120 schools participated in the competition – which asked pupils to come up with different ways to get across an anti racism message.
Co-ordinator of Show Racism the Red Card Garrett Mullen said: "We have an education pack which features top sports stars from the Irish soccer team to hurling players and League of Ireland players.
"The idea of the creative competition was to invite schools to do some work to make an impact on the issue of racism and integration within their own community."
The Donegal school got their award from President Michael D Higgins.
He told them that diversity was a source of richness whose bounty could only be harvested if everyone worked for the kind of society where each citizen realised their unique potential and contributed meaningfully.
The President said racist attitudes could express themselves beyond mere verbal abuse and physical assaults.
Racism could emerge "through the policies and services of our institutions when they fail to accommodate and respond appropriately to the needs of a particular section of a population", he said.
The Raphoe school's 6'x4' artwork is based on a picture by 5th class student Gemma McGlynn, but the amazing project involved every class member.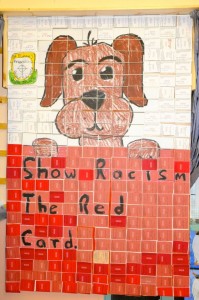 Among the replies received was a hand-written letter from Sunderland boss Martin O'Neill saying he was delighted to support them, while Shay Given also returned his signed card and sent the class posters and a dvd.
Donegal stars Patrick McBrearty and Rory Kavanagh are also among the many who have signed while local clergy, sports club members and parents of the children have also added their names to the impressive artwork.
Tags: