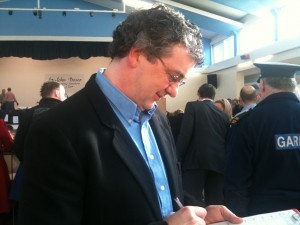 INDEPENDENT TD Thomas Pringle has become the first Dail deputy from Co Donegal to openly support abortion.
The Donegal South West representative confirmed to donegaldaily.com in a brief statement that he believed "legislation on the X case should be enacted."
Three other TDs from the Technical Group have lobbied a Private Member's Bill in the Dail, calling for the Government to legislate on the controversial X Case – a Supreme Court ruling that women should be allowed an abortion here when a mother's life is in danger.
Socialist Party TD Clare Daly, People Before Profit's Joan Collins and Independent TD Mick Wallace will need the support of the majority of the Dail – some 81 votes on top of their own – for the Bill to be passed.
"In the week when Irish women have come forward to speak publicly about how their need to leave Ireland to terminate non-viable pregnancies made a difficult experience worse, tabling this Bill is a first step to creating a legal framework for abortion in Ireland in cases where a woman's life is at risk," said Ms Daly.
The Supreme Court made the X Case ruling 20 years ago, but it was never made part of the country's laws.
Delegates at the Labour Party national conference last weekend unanimously passed a motion to allow for abortions to be legally carried out in Ireland – on grounds wider than risk to a woman's life or health.
But the party's TDs have been instructed to vote against the Bill.
Deputy Pringle was among TDs who met four women who were forced to leave the country to have an abortion during difficult pregnancies.
Jenny McDonald, Ruth Bowie, Amanda Mellet and Arlette Lyons shared their stories in a bid to highlight the plight of women who are denied the right to a termination in life-threatening circumstances.