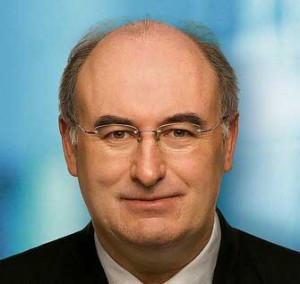 An Open Letter to Phil Hogan
By Enda Craig, Moville
The Government has stated that the  proposed new water meters will be housed in BOUNDARY BOXES (8inch plastic piping) dug into the ground to a depth of two and a half feet.
These boxes will be located where historically the mains stop-cock resides ie adjacant to the tap-off point on the main road where the mains water supply normally runs.
The impression being given is that in all cases the said water meter will be adjacent to or actually on your property. In many cases this is not so. In Moville, where I live, seven boundary boxes have already been installed which will meter houses that are 100 metres to 300 metres distant.
This immediately raises the question how can I be responsible for this meter, which they say I must now pay for and therefore own, being such a distance from my house.
These meters will be accessible to the world at large having been abandoned at the side of the main road.
Also, should they need to be replaced in the future due to normal wear and tear or indeed vandalism who will carry the cost for this at the end of the day?
Again who will be responsible for the security of the water line between the water meter and my house and make sure that it is not tapped into which could quite easily happen, causing me to pay for someone else's water supply.
It should be noted that metering from the ESB and BORD GAIS, which you don't  have to pay for, is always located on your property.
Indeed, in continental countries that I have checked on water meters are without fail located in or on people's properties.
I think it only right and fair that I be asked to take responsibility for such equipment only  if it is installed inside the confines of my property where I can secure and control it. This cavalier attitude of the powers that be is not acceptable and indeed makes one wonder    –  a lot!
Tags: