Decades of hurt and frustration will end this weekend when the blessing of the recently erected memorial to young babies at Burt cemetery takes place.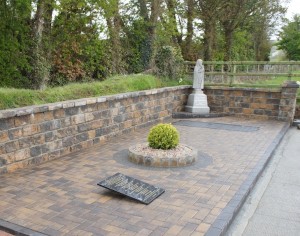 The touching ceremony, organised by the Burt Cemetery Project Committee, will take place in Burt cemetery on Saturday next 28th April at 7.00 pm immediately after evening Mass.
The simple ceremony, which will be carried out by Fr Gerard Sweeney, brings to an end to a situation for many families who had babies buried in a mass unmarked grave in the corner of the main cemetery.
A similar situation relating to babies buried away from the main cemetery previously existed in many parishes around the country, but many of these had already addressed the issue.
Back in September a committee of local people in Burt was put in place to raise sufficient funds to erect a fitting memorial.
Within an eight-week period, following a successful fundraising campaign, which received widespread support, work commenced.
Although the project was completed a short while ago, it was decided the blessing would not take place until after Easter, so that everybody could have an opportunity to come along on a clear evening after Mass, to mark an historic occasion.
Everyone is encouraged to attend the blessing ceremony and anyone wishing to place flowers at the plot in advance, is welcome to do so.
Tags: