The inquest into the death of former Sinn Fein politician and Provisional IRA man Denis Donaldson is to be held today in Letterkenny – after it was adjourned EIGHT times.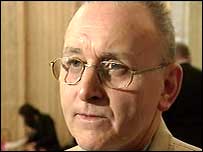 The last sitting of the coroner's court into the 56 year old's death in January was told a Garda file was almost ready to be presented to the Director of Public Prosecutions.
Donaldson, 56, was murdered in his remote home at Classey, Cloghercor, outside Glenties on April 4th 2006.
He had been operating as a British spy for 20 years and was shot four times in the chest, face, arm and hand in a rented cottage.
Garda Superintendent Michael Finan told the last inquest that he expects the DPP to decide within six months if he has enough evidence to prosecute someone in relation to the murder.
He said a file will be submitted to the DPP and six months should be adequate time for him to come to a decision.
At the last adjourned inquest coroner Dr Denis McCauley said it was his intention to accelerate his inquiry if the DPP decides against a prosecution.
He said it was reassuring the investigation was still happening and he would prefer if there was a prosecution.
He added that if the DPP decides not to bring prosecutions, he will accelerate the inquest proceedings and seek documentation, including witness depositions.
Although there have been two arrests relating to Donaldson's brutal murder, nobody has ever been charged in connection with it.
At the time of the murder it was blamed on the Provisional IRA.
But the Real IRA in Derry later claimed responsibility for the killing with mainstream republicans claiming the death suited the British intelligence establishment.
Tags: