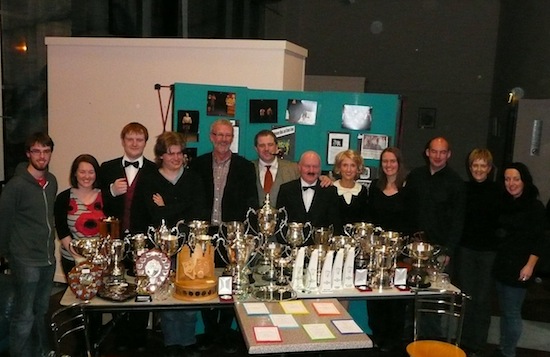 The cast and crew of the Letterkenny Music and Drama Group are celebrating after sweeping the boards in the All Ireland Drama Finals in Cavan for their hugely acclaimed play 'The 39 Steps'.
The group won the Best Producer award,  the Best Actress, the Best Supporting Actors and the Best Stage Management awards.
Producer Plunkett O'Fearraigh said he was delighted by how well the play had done.
"I know there were some individual awards but this was very much a team effort. The awards are for the entire cast and crew.
"I would like to pay tribute to everyone who has ever been involved in the play," he said.
The group qualified for the All Ireland by virtue of the fact that they won all seven Drama Festivals they competed in all around Ulster since the beginning of March.
They won in Castleblayney, Lislea, Portadown, Derry, Strabane, Carrigmore and Ballyshanon. Along with winning the festivals outright they also won many individual awards [ 46 awards in total] – including best Actress [ Elaine Gillespie], Best Actor [ Kieran Kelly], Best Supporting Actor [ Eoghan Mac Giolla Bhrighde & John Ruddy], Best Director /Producer [Pluincéad Ó Fearraigh], Best Stage Manager [ Fiona Mc Daid], Best Lighting [ Niall Cranney & Ann Marie Langan], Best Technical /sound [ Paul Rooney], Best Comedy, Best Set and the Audience Awards etc.
The group have also qualified to compete in The Ulster Drama Finals in Newtownabbey in Belfast on the 15th May. This is a separate competition from the All Ireland.
This is an exciting time for the LMDG, An Grianán Theatre, the town of Letterkenny and of course the county with the prospect of bringing an All Ireland Trophy and Ulster Title home to the county. We wish them luck.
The group have already staged and sold out The 39 Steps in An Grianán 4 times this year and due to popular demand will stage it again for the last time on Saturday 12th May at 8pm. Book early to avoid disappointment by ringing 0749120777
The above pictures shows the cast and crew of Letterkenny Music and Drama Group's production of The 39 Steps with all the trophies [ 46 awards in all] they have won so far in 7 drama Festivals since the beginning of March.
Tags: