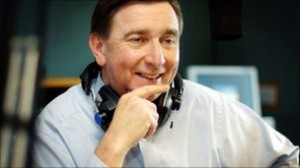 A DONEGAL anti-child abuse campaigner has spoken out on the censorship imposed on well-known priest Father Brian D'Arcy.
The Fermanagh-based cleric has a huge following, with many people from Co Donegal travelling to his Sunday Masses at the Passionist Monastery near Enniskillen.
Last week it was revealed that the Vatican has tried to silence Father D'Arcy over his outspoken attacks on the cover up of abuse within the church.
John O'Donnell,  a representative and spokesperson for 'Donegal against Child Abuse', said he was speaking out in support of Father D'Arcy, who himself was abused.
"As a fellow victim of child abuse I feel compelled to voice my opinion in the strongest terms against the silencing of Fr Brian by the Vatican," Mr O'Donnell told donegaldaily.com.
"Fr Brian has been a broadcaster and newspaper columnist and an outspoken critic of the Church's handling of child abuse among other important issues such as homosexuality, celibacy and contraception for a very long time.
"Fr Brian must now submit his writings prior to publication for approval to a Theologian . He is now the 5th priest to be censured by the Church in recent times in Ireland. Unfortunately , this stance taken by the Church has only further entrenched my views that nothing is being done to alleviate the suffering of victims of abuse."
The Churchill man said he was "still awaiting an apology for the abject handling of my particular case by the Church" in the Raphoe Diocese.
He told us: "During the past week I feel a line has been crossed and the floodgates have opened. The dam has burst!
"Firstly it was Ray D'Arcy and now by a big coincidence his namesake Fr Brian D'Arcy have voiced very serious disquiet with the Church's handling of child abuse. They must listen to ordinary lay person or else accept the consequences of further alienation of members.
"I made the decision to establish a Facebook Group supporting outspoken views of Fr Brian so that the layperson could have a platform to air their views and disquiet and send a message to the church that the people must be listened to or else the Church will fail.
"In his own words 'If people expect me, who was abused twice in my life, to be silent about issues and about the protection of children , I can't do that '
"I concur with that sentiment."
Tags: