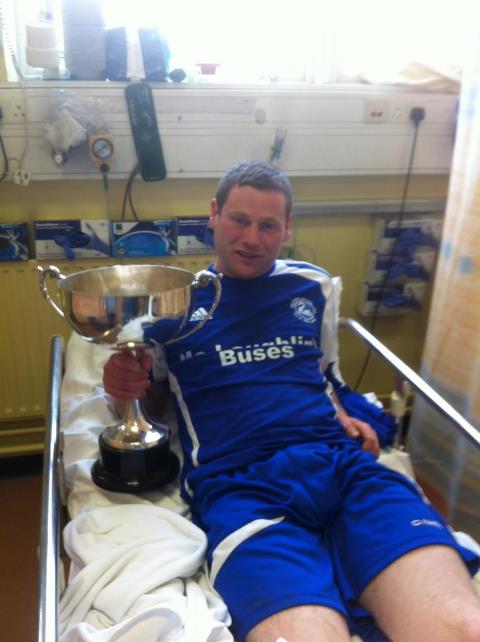 THERE'S no accounting for true grit.
So when Milford United bagged the Ulster Junior Cup with a 3-0 win over Clonmany Shamrocks on Sunday, the first thing the victorious side did was deliver the winning trophy to their top player – in his hospital bed.
Damien 'Banjo' Casey's cup final in Buncrana lasted just eight minutes when he was left writhing with a broken leg.
He was taken from the pitch and straight to hospital.
His fellow Blues however made sure it was all going to be worth it and put in a solid performance to win the match with goals from team mates PJ Hagan who bagged two and Karl Duggan.
Messages of support poured into Letterkenny General Hospital all day for Banjo.
And the team dutifully arrived to make sure he finally got his hands on the Cup.
The messages of support included many from the defeated Clonmany Shamrocks side.
Player Steve Harkin congratulated Milford on their victory and wished Banjo a speedy recovery.
"It was well deserved and we wish Banjo a speedy recovery," he said.
True sportsmanship at its best.
Tags: