Finn Harps will look to halt a two game losing streak when they host Athlone Town at Finn Park on Saturday evening (kick-off 7.45pm).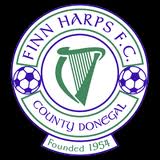 Having gone on a three game winning run in the league, Harps lost on their last two outings against Limerick (3-1) at Finn Park and Mervue United (3-0) at Fahy's Field last weekend.
Finn Harps Director of Football Felix Healy was a frustrated figure in Galway last weekend as he watched his side get beaten by the First Division's basement club.
"One of the most frustrating parts when watching your team play is the inability to take the chances that come along when you're in control of any game, which was the case for the first 44 minutes at Mervue," Healy said.
"We missed a couple of great opportunities and then one player goes to sleep and costs us a goal. It drives you absolutely scatty. The last thing I said before the players left the dressing room was to remind them of picking up at set-pieces.
"In the second half, their keeper made a terrific save when we were probably just shading the match but they broke and scored their second which, disappointingly, from our point of view seemed to knock the stuffing out of us. The final ten minutes or so we stopped working as a team and that led to us conceding again and ultimately a three-nil defeat."
Healy was again worried that his side weren't taking the chances they were creating – something he was also worried about in the early games of the season.
"The game could have been so much different if we'd taken the opportunities in the first half," he felt. "We played Longford recently and created four chances and took three of them and won, everyone felt we were a really good side; at Mervue we created six opportunities and didn't take any, two in particular were really bad misses and all of a sudden we're not a very good side, but that's football."
Healy also feels that his team should have more than the twelve points that they currently have. "We have played nine games with a side that's youthful and still evolving, in six of those games we were by far the better side and should have picked up a lot more points than we currently have. Poor defending from set-pieces has caused us several points and we'll need to improve in that particular area if we are to win more games."
In addition to the long term absentees of Keith Cowan, Stephen O'Donnell and Ciaran Gallagher, Harps could also be without a further trio of players.
"Tommy McBride is suspended," confirmed Healy. There are doubts about Adam Clarke who has a hamstring strain, whilst Kevin McHugh has a bit of problem with his calf but he should be okay."
"Athlone will be like every other game we have played already, a very difficult one but if we defend better from set plays we are capable of getting three points," says Healy ahead of the visit of the midlanders on Saturday.
Athlone haven't recorded a victory at Finn Park since October 1992, although four of the last five games in Ballybofey have finished in draws.
~~~~~~~~~~~~~~~~~~~~~~~~~~~~~~~~~~~~~~~~~~~~~~~~~~~~~~~~~~~~~~~
TEAM NEWS
Suspended: Thomas McBride
Doubtful: Adam Clarke (hamstring), Kevin McHugh (calf).
Injured: Keith Cowan (double hairline fracture ankle), Stephen O'Donnell (medial ligament), Ciaran Gallagher (hairline fracture skull).
Form Guide (last six league games)
Finn Harps: L-W-W-W-L-L (9 pts)
Athlone Town: W-L-L-D-W-L (7 pts)
~~~~~~~~~~~~~~~~~~~~~~~~~~~~~~~~~~~~~~~~~~~~~~~~~~~~~~~~~~~~~~~
Last six home games against Athlone Town
29/06/2007 – Finn Harps 2-0 Athlone Town (First Division)
02/11/2007 – Finn Harps 1-1 Athlone Town (First Division)
18/07/2009 – Finn Harps 1-1 Athlone Town (First Division)
17/04/2010 – Finn Harps 0-0 Athlone Town (First Division)
01/10/2010 – Finn Harps 2-2 Athlone Town (First Division)
26/05/2011 – Finn Harps 1-0 Athlone Town (First Division)
~~~~~~~~~~~~~~~~~~~~~~~~~~~~~~~~~~~~~~~~~~~~~~~~~~~~~~~~~~~~~~~
Finn Harps Goalscorers 2012
Adam Clarke – 4
Kevin McHugh – 4 (1 in League Cup)
Blain Curtis – 2
Paul Simon Tracey – 2
Thomas McMonagle – 1
Thomas McBride – 1
~~~~~~~~~~~~~~~~~~~~~~~~~~~~~~~~~~~~~~~~~~~~~~~~~~~~~~~~~~~~~~~
Finn Harps Results 2012 (Harps goalscorers in brackets)
27/04/2012 – (FD) Mervue United 3-0 Finn Harps
21/04/2012 – (FD) Finn Harps 1-3 Limerick (Clarke)
14/04/2012 – (FD) Longford Town 1-3 Finn Harps (Tracey, McBride, Curtis)
09/04/2012 – (LC) Derry City 4-0 Finn Harps
06/04/2012 – (FD) Finn Harps 3-0 Salthill Devon (Clarke, McHugh, Curtis)
31/03/2012 – (FD) Waterford United 0-2 Finn Harps (Tracey, Waterford o.g.)
26/03/2012 – (LC) Finn Harps 2-0 Mayo League (Mayo o.g., McHugh)
24/03/2012 – (FD) Finn Harps 0-1 Wexford Youths
16/03/2012 – (FD) Athlone Town 2-0 Finn Harps
10/03/2012 – (FD) Finn Harps 4-3 Mervue United (Clarke, McHugh 2, McMonagle)
02/03/2012 – (FD) Limerick 2-1 Finn Harps (Clarke)
~~~~~~~~~~~~~~~~~~~~~~~~~~~~~~~~~~~~~~~~~~~~~~~~~~~~~~~~~~~~~~~
Tags: