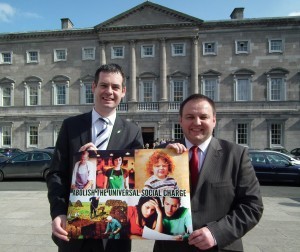 Sinn Fein TDs, Padraig MacLochlainn and Pearse Doherty, spoke today after  a  debate in the Dáil with Minister For Finance Michael Noonan, where they raised the Highland Bakery case.
Deputy MacLochlainn commented: "It is very frustrating for business owners and the state, when otherwise viable businesses are threatened with closure as a result of unsustainable tax repayment plans.
"Revenue needs to consider the wider implications of its chosen course of action. 42 jobs are at risk at the Highland Bakery plant in Letterkenny – if these jobs go it could cost the state approx €800,000 per year in Social Welfare and Ancillary payments, an amount which far exceeds the tax liability of the company.
"The owner of the plant is willing to engage with Revenue and pay his full tax liability, but merely wants to do so in a sustainable way, which will keep his business open and his employees in jobs. The State should facilitate that as much as it can."
Deputy Doherty highlighted the fact that Highland Bakery is not an isolated case in Donegal.
"Just this morning my office was contacted by a business owner, who has been threatened with the Tax Sheriff after 7 days if he does not pay half his tax liability up front. He employs 14 people in Donegal and has a viable business, if a reasonable repayment plan could be agreed with Revenue.
"In another case, a local business owner has paid all of his liabilities only to be then hit with sheriff's fees. The Highland Bakery incident, although well publicised in Donegal, is unfortunately not an isolated case.
"While I acknowledge that Revenue is independent and usually efficient, steps need to be taken to ensure that everything is done to keep a viable business open, while at the same time ensuring that they pay off their full tax liabilities and any other outstanding debts. We need to look urgently at amending current legislation to deal with this matter, given the current climate, before businesses are forced to close as a result." he said.
Minister Noonan, in responding to the Deputies, stated that Revenue was independent in the carrying out of its functions and it would not be appropriate for him to comment on or intervene in individual cases.
Tags: