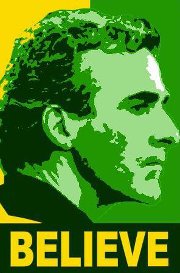 DONEGAL County GAA board has today issued a warning over the re-use of its patented logo on merchandise – robbing the county of valuable funding.
In a strongly worded statement today, the County Board said it is taking legal advice over bogus jerseys and other merchandise which illegally uses the branded county crest.
The statement says: "It has been brought to our attention that some clothing companies are producing replica Donegal GAA jerseys, tshirts, poloshirts, flags, etc, using the Donegal GAA Crest / Logo. The Donegal GAA Crest is patented and Donegal GAA has not granted permission to any parties to use our crest without permission.
"Also, the GAA brand has been used without consent, and the GAA in Croke Park have been made aware of this, and will monitor the situation.
"We would urge supporters to purchase only OFFICIAL GAA PRODUCTS as Donegal GAA gets a share of the profits raised in the sale of OFFICIAL items."
The statement goes on: "All of our jerseys, t-shirts, etc, are manufactured and produced by Azzurri, and only Azzurri have permission to produce any Donegal GAA items of clothing. By purchasing an official Azzurri Donegal GAA jersey, etc, you are contributing directly to Donegal GAA.
"We would ask supporters to inform us immediately of any non-Azzurri Donegal GAA items of clothing you may see for sale. Legal action may be taken against such un-authorised sale of Donegal GAA gear, and the use of the patented Donegal GAA Crest."
The Board wants people to report any such activities immediately to secretary.donegal@gaa.ie or contact Donegal GAA at 074 91 90761 or any County Board Executive member.
The statement added: "We also encourage supporters to purchase official GAA merchandise. Official GAA merchandise is easily recognisable as all such items carry the official GAA logo. As with the jerseys, etc, a share of Official GAA flags, car flags, air fresheners, etc, will be paid to Donegal GAA."