There was only one name on peoples lips this week. She started off at the Open in Gweedore taking not only the visitors prize, but also best dressed. The style continued with her win on Tuesday in the Donegal Printing Open with a fantastic 42 points and topped off the rest of the week by winning the August medal with 69 Nett! It was obvious to those of us who played with Bridget McClafferty over the summer, the BIG SCORE was just around the corner. Last year, there was a new driver and 3 wood added to her arsenal and this year Stephen was spotted a few times straightening her out! In her own quiet way, Bridget went about her business and was rewarded for her commitment to get it right.
Many thanks to the Donegal printing Co. for their generous sponsorship on Tuesday 21st. Winner Bridget McClafferty 42 points. Runner – Up Marian O'Sullivan 38 points. Gross Mary Murray 24 gross points. 3rd Karen McGlinchey 37 points. Front 9; Tracy Spence 20 points B.O.T. Back 9; Peggy Forde 20 points. Visitor; Mairead Harkin 34 points Gweedore Golf Club.
The August Medal was won by Bridget McClafferty 69 nett. Runner -Up Tracy Spence 71 nett; 3rd Cathy Marren 73 Nett.
On Saturday 1st September, tee times have been reserved from 1-2pm for the very popular Past Lady Captains Prize. Best wishes to everyone for an enjoyable day.
The September Medal will be played on Tuesday 4th September. There will be no draw for the last medal so please choose your own partners and book online. The Lady Captains outing to Redcastle will take place on 22nd September. If you have not booked, please contact Lady Vice Captain Sandra McMonagle. One date for your diary is the Donegal Hospice Coffee Evening on the 20th September. This is always a lovely fundraiser for the hospice and all support is greatly appreciated.
Junior Golf
All juniors and their parents or guardians are invited to attend an end of summer season presentation in the clubhouse on Saturday 1st September at 4.30pm.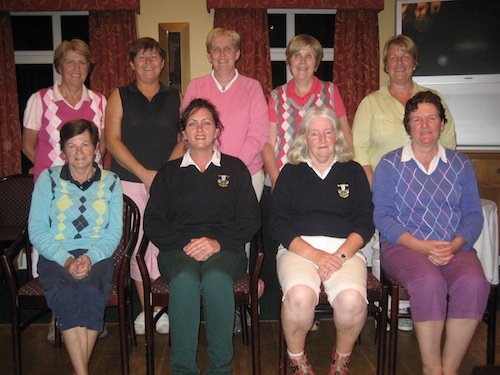 Photo: Donegal Printing Co. Open: Left to Right back Row; Angela Bradley, Celine Bradley, Tracy Spence, Peggy Forde, Karen McGlinchey
Front Row: Left to Right: Bridget McClafferty Winner, Lady Vice-Captain Sandra McMonagle, Marian O'Sullivan, Mary Murray.
Tags: