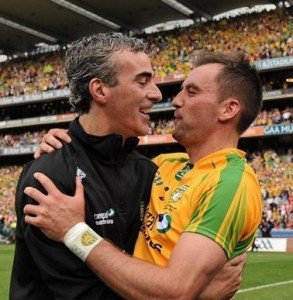 WHAT a difference a year makes – from so-called 'puke football' to the Barcelona of the GAA!
That's what the pundits are saying today after Donegal's superb All-Ireland semi-final win over Cork on Sunday.
Double All-Ireland winner Tony Davis stood by his insistence that Donegal played awful defensive gaelic football last year.
But he has changed his mind now about this year's team – and reckons Donegal play GAA the way Barcelona play soccer!
For McHugh, think Messi, he says.
High praise indeed.
Asked about how Donegal could smother attacks and then break out into attack, Davis said: "That's the whole key to how Donegal play; it's like watching Barcelona play – they get the ball back and break out."
Dinny Allen, the legendary Cork dual player – he won four all-Irelands at football  – is regarded as one of the greatest gaelic stars of all-time.
Asked about how Jim McGuinness and his staff had moulded this Donegal team, Dinny said: "It was wonderful to watch.
"I don't like speaking of other codes but it was like watching a top continental European soccer team, the way they defend, take possession and break out.
"They were the better team on the day and played some great football."
From a legend like Allen, it doesn't get any better.
The whole county is buzzing today as Donegal contemplates only our second ever All-Ireland final.
Thoughts are already turning to tickets, with fans hoping Mayo can see off Dublin – fearing the Dubs will mop up tickets for the final in four weeks time.
Let the scramble begin.
Believe!
Tags: