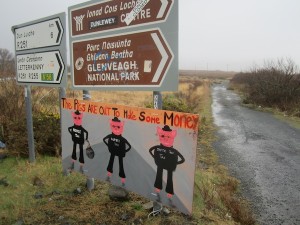 The Campaign Against Household & Water Taxes has said that the recent debate about how the property tax will be levied misses the point that the tax cannot be levied if people continue to refuse to register and pay.
"Nearly one and a half million people – representing over 700,000 households – are continuing to boycott the registration process for the household tax," said Gregor Kerr, spokesperson for the Campaign Against Household & Water Taxes.  "So the reality is that the government do not know who to levy the new property tax on."
"The debate about how the tax is to be calculated must be seen in this context," Mr. Kerr continued.  "They seem to be missing the most important point – the majority of people are not going to pay.  Even many people who have reluctantly registered for the household tax will have no option but to join the campaign against this property tax as they will not be able to afford it."
"The government claim that the Revenue Commissioners will collect this tax but in the absence of a central database of property owners, the Revenue Commissioners will not know who to levy the tax on.  That is why the CAHWT has advised people and continues to organise and support people to refuse to register.
"What is clear is that the drive for the imposition of a property tax is to allow the government to continue to pay the gambling debts of international financiers," Mr. Kerr concluded. "On 1st October the government will hand over yet another €1billion of our money to pay off these debts.  There is a simple alternative to trying to impose this property tax on us – don't pay the bondholders."
Tags: