Model Faye Dinsmore loves nothing better than coming home to Ballintra after a week on the catwalks around the globe. Here she explains what she loves about her home county.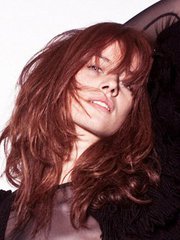 What is your favourite place in Donegal and why?
When the sun shines everywhere looks beautiful. When I'm home I usually have to entertain lots of my nieces and nephews so I take them on long walks on the back roads near my parent's house, you know the kind of roads that have grass in the middle? I love it, you don't really get that anywhere else!
You know those discover Ireland ads where they say 'Donegal, it's different up here' – so true. However, I don't love those ads so much anymore since they used a model from Dublin in the last one, you know the blonde girl running on the beach one?
If you could change one thing about Donegal what would it be?
Hmmmm, Internet connection. My fiancé is a tech geek and one of the reasons we don't spend more time up here is because he can't get any work done or check his emails on his laptop when he's here!
Who is the one person in Donegal that you look up to and why?
My mother, for giving me the advice like 'be able to put yourself in other people's shoes' 'mocking is catching' and then less useful things like 'if you sit too close to the fire your brain will melt' or 'cat hair can suck your blood' or 'if you go too close to the river the water horse will get you' or 'if you go into the woods the fairies will get you'.
Daniel O'Donnell or Packie Bonner?
Danny is at this a point a legend, must take a trip to visit that memorabilia centre he opened a while ago.
What was Donegal's saddest moment?
Donegal's saddest moments are the ones when you hear that another young person has died in a car crash.
What is your favourite Donegal-made product?
Convoy based designer Edel MacBride makes fantastic knitwear.
Who is Donegal's greatest ambassador around the world and why?
Going to have to say Daniel O'Donnell.
Who is Donegal's most successful businessperson in your opinion?
Paul Diver from The Sandhouse.
Who is your favourite Donegal sportsperson of all time?
Packie Bonner.
Also, Chloe Magee who represented Ireland in badminton at the Olympics. We went to the same school in Raphoe though I didn't really know her but I watched her matches and really felt for her when she lost out on a medal in London, she's young though so fingers crossed for Rio 2016!
What is your favourite Donegal restaurant?
The restaurant at The Sandhouse Hotel, I used to work there so I know how good the food is because I certainly ate enough of it! Ask Paul he'll tell you!
Donegal's golden eagles or basking sharks?
Golden eagles, bird watching is a big hobby of mine.
Your nomination for Donegal's most stylish person?
Michelle Doherty has a cool style.
What is your favourite Donegal saying or expression?
The fact that when you say 'I doubt it will rain' actually means you think it will rain.
Will Donegal win the All Ireland this year?
Bloody well hope so!
What is your favourite Donegal food?
Fresh fish.
Is there anything that really annoys you about Donegal or its people?
Yeah, litter and illegal dumping. I don't get how people can throw crap out of their car window or leave stuff behind on the beaches. It's just annoying when you take friends here and you're showing them the beautiful sites but there's litter everywhere.
If you had a million euro to spend on improving something in Donegal, what would it be?
How much would it cost to build a railway from Donegal to Dublin? Probably more than one million, you'd have to give me a few more.
Where's the most unusual place you've logged on to Donegal Daily?
Well I'm on a Bus Eireann bus from Derry to Donegal town right now as I just flew in from Scotland and I'm trying to log on now but can't! See what I was saying about Internet connection! Its only an unusual place because I haven't been on this bus for years!
Tags: