UPDATED: DONEGAL DAILY COMMENT: The victorious Donegal team last night looked like they were going to fall asleep on stage in Letterkenny.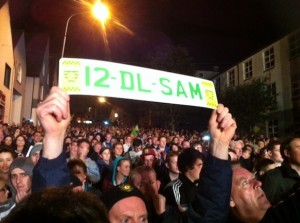 The time was 12.40am and the team were completing a frantic day during which they visited numerous towns from Bundoran to Ballybofey.
They happily posed for photographs and signed autograph after autograph for fans.
And yet today a small section of the public are complaining about the time schedule.
It is understandable that many children and parents will be disappointed that the team were four hours late arriving at various towns yesterday.
But the reality is that the players have very little control over screaming and adoring fans.
Yes we could have arranged a huge party in MacCumhaill Park or arranged three major stops but hindsight is a great thing.
Donegal has waited 20 years for Sam to come back home and everyone wants a piece of the team.
Each club, from St Eunans in Letterkenny to Naomh Mhuire in Mulladuff, want their time with the team.
The players under Jim McGuinness have restored some pride to the county and are now going the extra mile in helping as many people as possible to enjoy he occasion.
We must also remember that these players and the management team are giving their time when many should be back at work.
So we would ask people to be patient if the time schedule goes astray.
Meanwhile the lads continue their tour of the county today.
The following is the NEW 'rough' schedule for the tour of the county today – and all times are estimates.
Termon – 3pm
Donwings – 4pm
Naomh Micheal, Creeslough – 5pm
Falcarragh – 6pm
Gaoth Dobhair – 7pm
Naomh Mhuire – Muladuff – 8pm
Dungloe – 9pm
Na Rossa – 10pm
Glenties – 11pm.
Tags: