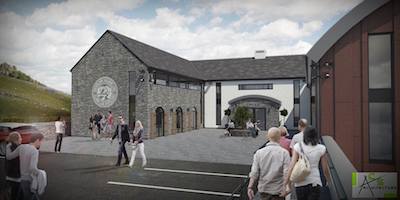 DONEGAL is set to get its first new distillery in more than a century and a half – after planners today gave the go-ahead for a new operation along the Wild Atlantic Way.
The Sliabh Liag Distillery had been held up after objections to the facility outside Carrick.
But today it was announced those objections were ruled out of order, leading the way for a visitor centre and distillery which will act as a gateway to Europe's highest sea cliffs.
Sliabh Liag Distillery is a new Irish whiskey company driven by two returning Donegal "scatterlings".
James Doherty and Margaret Cunningham separately returned from the diaspora and in 2015 joined forces to reclaim the lost distilling heritage of Donegal. They are going to build the first distillery in Donegal for more than 170 years on the landward slopes of the majestic Sliabh Liag sea cliffs.
All the brands from the distillery will be inspired by local lore and legend, very much rooted in the Donegal Gaeltacht.
"We are delighted to announce that An Bord Pleanála has upheld the decision made by Donegal County Council to GRANT full planning permission for the Sliabh Liag Distillery designed by Corner Stone Architecture," James and Margaret said today.
"This is an exciting step toward the goal of reclaiming the distilling heritage of Donegal. The distillery will be a boost to employment and enhance tourism in the area and we are grateful to all the specialists that have helped put forward such a comprehensive submission in which the merits of the distillery were highlighted and the concerns addressed.
"Above all the support of the local community and friends near and far has been vocal and committed especially through Support Sliabh Liag Distillery."
"The formal support through letters and emails from local businesses, TDs, organisations, councillors and some of the local councils has ultimately seen us through."
The decision has been welcomed by Minister of State and Donegal TD Joe McHugh.
"I am absolutely delighted for James and Margaret and want to congratulate them on their dedication to this superb project which will further enhance the visitor experience to Donegal and create good jobs locally," he said.
Tags: