Donegal Youth Service are opening their doors to all young people in Letterkenny for St. Patrick's Day celebrations tomorrow. 
Everyone is welcome to pop in for a visit and see the Loft/Youth Information drop-in space. The centre will open just after the parade at 3.30pm and will stay open until 10pm.
There will be fun for all ages with face-painting, music, quizzes, competitions, dancing and more.  Come and get your photo taken with a silly wig and glasses, or get a shamrock painted on your cheek!  There will also be food, tea and coffee available all day.  So why not pop in and celebrate St. Patrick's Day with Donegal Youth Service?  It is going to be great craic!
This is a strictly alcohol-free event, and DYS Regional Director, Lorraine Thompson shared that "we are very happy to be able to provide a safe, and fun alcohol-free space for young people on St. Patrick's Day".
Donegal Youth Service would like to thank the North West Regional Drugs Taskforce for funding the day.  Donegal Youth Service is located at 16-18 Port Road, Letterkenny.  They can be contacted on (074) 91 29630.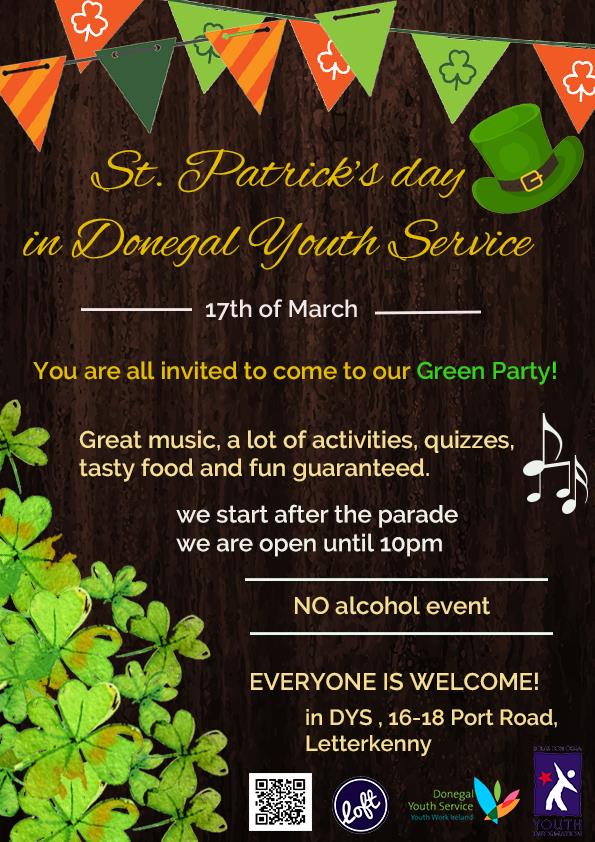 Tags: