MAVERICKS BARBERS: This week the male grooming experts at Mavericks Barbershop Letterkenny snip into the latest haircut trend to hit Donegal – the cropped fringe. 
As we enter the Easter season here in Mavericks we are noticing a change when the client begins their consultation for their next haircut. There is a big swing towards a textured style on top with the ever fashionable fade. The other big thing we see our clients doing is requesting a cropped fringe.
Funny, it was only about 4 weeks ago that the Mavericks were sitting down and talking shop when one of them commented is the cropped fringe ever going to be as big or even properly happen around Donegal at all. Well, we got our answer.
Lately the Mavericks have been working their magic on the latest trends, including the cropped fringe. Below is a sample of just a few:
1. Medium fade, textured on top, cropped fringe.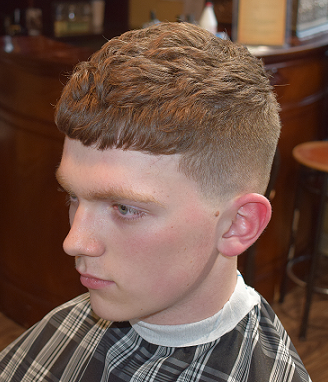 This version of the cropped fringe was produced with a lot of texture on top and some volume added to for good measure. The look was complete with a 0.5 medium fade which was dropped at the back and finished with a smooth transition. Styled with Dapper Dan Matt Paste. Barber Ronan.
2. High undercut, textured top.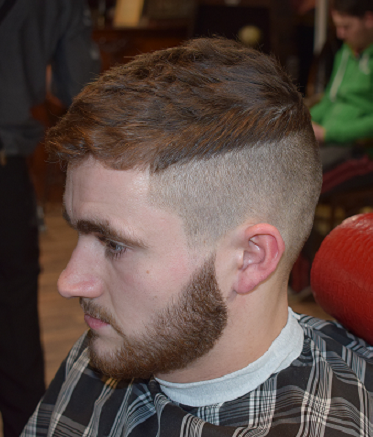 This hairstyle has real appeal right now the subtle undercut is very striking and the eye is drawn to it. There is no real over hang as the hair is quite short but it gives profound effect if styled properly. A 0.5 is brought right to the top. Hair textured on top using Dapper Dan Matt Clay. Barber Noel.
3. Tapered sides and back, textured top with a cropped fringe.
This haircut, done on one of our very own Mavericks is a cropped fringe with some volume and a bit of textured added for effect. The fade was given the cold shoulder here and a number two on the sides and back with a neat taper on the edges was preferred. Styled with Mavericks volume styling powder. Barber Darwyn.
4. Medium fade, textured on top, cropped fringe & beard disconnected.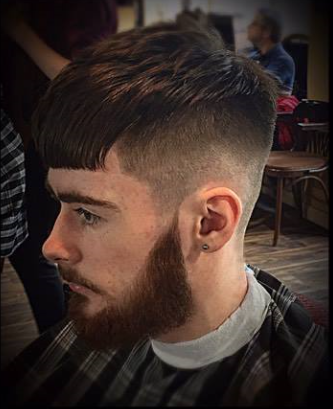 This cropped fringe look was created using a 5 layered approach in order to achieve great detail in the finish. It continues in to a textured top with a zero fade on the sides and back. The beard is disconnected from the zero fade. Style with Mavericks volume styling powder. Barber Noel.
5. Medium fade with undercut, textured on top.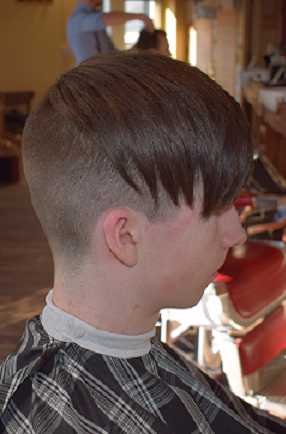 This haircut was achieved with fading a 0.5 into a 1.5, performed below a high undercut. The top was left straight using all its length with a bit of texture and volume added to give the finishing look. Styled using vines hair tonic & dear barber shaping cream. Barber JP.
The cropped fringe and the textured top seems to be what is in right now lads, but don't be afraid to try something different. The Mavericks are always on hand and will give you're their advice on what is possible for you or not.
We love to see a guy come in and try and change it up. For more information or advice call into us at Mavericks Traditional Barbershop, Lower Main Street, Letterkenny. Also follow us on facebook at www.facebook.com/Maverickstraditionalbarbershop
Tags: