Back to School next week! Have you had your thinking caps on during the Easter break about what you'll do for the 1for1@1 Schools Challenge?
The Relay for Life 1for1@1 Schools Challenge, in conjunction with Donegal Daily, will commence on 1st May and will run until Friday 19th May.
Singing star Daniel O'Donnell, who is the patron for Relay for Life Donegal, is supporting this great cause and is urging everyone to get involved and do as much as they can.
We are asking all schools in Donegal to take part and, on one day between those dates, you pick a challenge of your choice to do at 1pm. Each student taking part brings in one euro to the school – yes ''One will do Thank You''.   
Already many schools have told us that they will participate in the challenge and we would love if one school would challenge another school in their area to do it.
This year all money raised during Relay and from the Schools challenge goes directly to funding the extensive research programme for Cancer Survivors which is presently underway at Letterkenny University Hospital.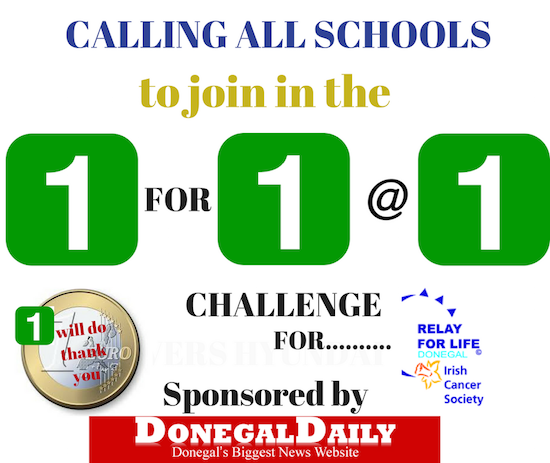 The cost to fund this programme is €100,000 so your euro is so important to us.  Cancer affects every family so just like Daniel we are asking all schools to please consider doing our challenge.  
Full details on the challenge from Relay for Life Donegal Facebook page or here on Donegal Daily, or contact Seamus Mc Bride, Relay for Life on (087) 2289477.
Keep checking Donegal Daily for regular updates leading up to and during the challenge dates!
Click HERE to find out all you need to know about the challenge on Donegal Daily.
Tags: