Celtic legend Chris Sutton will be in Ballybofey next month to help the Twin Towns Celtic Supporters Club celebrate their 20th anniversary.
Sutton, who won four Scottish Premier League titles with the Hoops, has been confirmed as the Guest of Honour for the weekend.
On Saturday, June 3rd, Jackson's Hotel, Ballybofey, will play host to 'An Evening With Chris Sutton'.
A questions and answers session with Sutton will take place from 6.30-7.30pm (doors open at 6.15pm), before the Champions League final between Real Madrid and Juventus.
At half-time and again at full-time, there will be analysis from Sutton, who has made a name for himself recently with punditry work with BBC.
Sutton also won three Scottish Cups, a Scottish League Cup and played in the 2003 UEFA Cup final defeat to FC Porto.
After the Champions League final, Sutton will sign autographs for supporters and the Twin Towns CSC will then host a live band in Jackson's Hotel that night.
Young Celtic superfan Jay Beatty from Armagh, who has Down's Syndrome and who has gained worldwide attention, will be a Special Guest at the 20th Anniversary Dinner Dance on Sunday, June 4th at the Villa Rose Hotel, Ballybofey.
The Druids will be providing the entertainment on the night.
Tables of 8 or 10 persons may be booked in advance. Tickets cost €25.
A replica of the 1967 European Cup will be on display throughout the weekend.
For further information, contact Stephen on 087-6256107, Eugene on 087-6306499 or Conal on 087-2620380.
For more you can also follow their Facebook page,  Twin Towns CSC 20th Anniversary Weekend.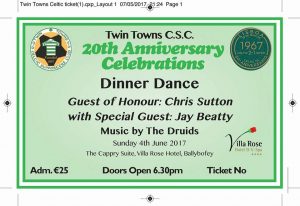 Tags: