Excitement is rising for the release of the next Star Wars blockbuster after a new behind the scenes video was released on Saturday.
The newest Star Wars: The Last Jedi trailer shows many shots filmed in Ireland along with a stand-out scene from Donegal's Malin Head (featured above).
Daisy Ridley, who plays Rey, is seen sprinting towards a moving camera with the otherworldly landscape of Malin in the background. Malin's scenery is set to be part of Ahch-To, the new planet which will have an epic battle in the eighth Star Wars chapter.
The production shot features a six-wheel Polaris and stabilised head from the Celtic Grips equipment company.
The Star Wars crew visited Donegal last year to film on-location on the Wild Atlantic Way. Skellig Michael off the Kerry coast appears heavily in the trailer, with impressive rock formations providing a dramatic background to other action shots.
The trailer also features the late Carrie Fisher, who died shortly after filming her scenes as General Leia.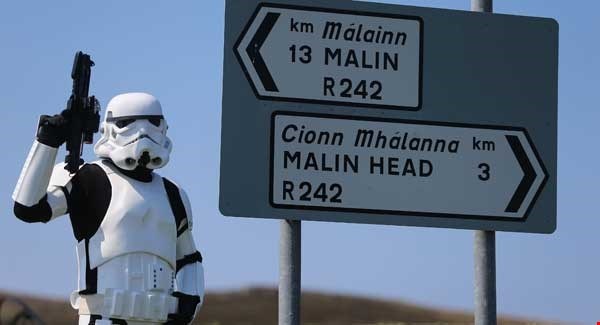 Malin Head in Donegal has already felt the force of having the famous franchise filmed at the location, with many tourists coming to see the striking landscape which hosted the Millenium Falcon last year.
Star Wars: The Last Jedi will be released in cinemas in mid-December.
Tags: