The Central Statistics Office has this week published statistics from Census 2016 which reveal that the number of people declaring 'no religion' has increased by 74%.
Nationally, the number of people citing 'no religion' (including atheists and agnostics), has increased by 73.6% to stand at 481,388 in 2016.
In Donegal, the amount of those selecting 'no religion' increased from 5,161 in 2011 to 8,172 last year.
Fewer people also identified as Roman Catholic in Donegal, with the figure dropping from 137,639 in 2011 to 130,317 in 2016.
Despite the drop in Roman Catholicism, it remains the dominant religion in Donegal with 82% of the total 159,192 people surveyed stating that they are Roman Catholic.
The report details how both the proportion and total number of Catholics have fallen since 2011, with Catholics comprising 78.3% of the population in April 2016, down from 84.3% in 2011.
The total 3,729,115 Catholics recorded in Census 2016 was 132,220 fewer than in 2011. They were the second largest category and made up 10.1% of the population, compared with 6.0% five years previously. With an average age of 34 years, they were 3.4 years younger on average than the population overall.
There were 73,208 divorced Catholics in Ireland in April 2016, of whom 29,900 were males and 43,308 were females. Catholics had a lower rate of divorce than the general population, 4.1% compared to 4.7%, although the rate has increased since 2011, when it was 3.6%.
Persons born outside of Ireland comprised 12.0% of the country's total Catholic population.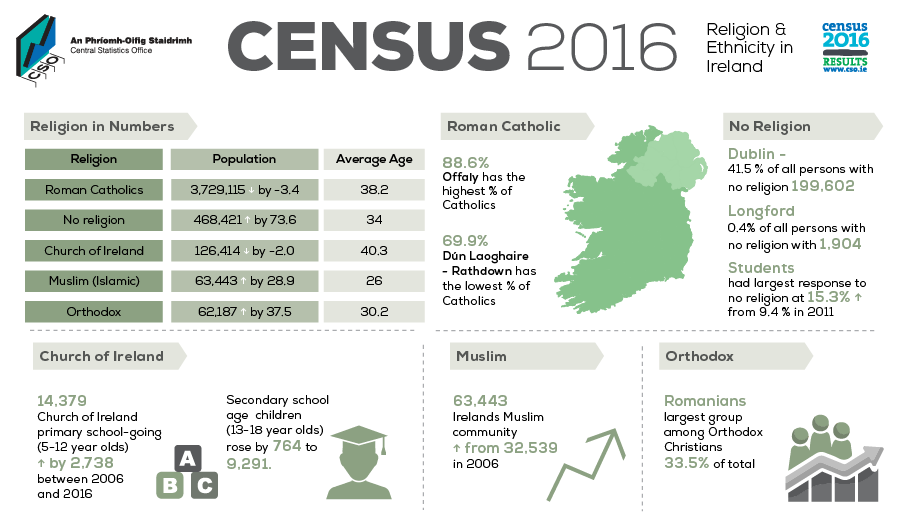 There were 126,414 members of the Church of Ireland in April 2016, a decrease of 2.0% on 2011. In Donegal, 6,756 people said they are members of the COI.
Their average age was 40.3 years, nearly three years above that of the general population.
There were 63,443 Muslims in Ireland in April 2016, up from 49,204 (+28.9%) five years previously. Some 16,364 (25.8%) of all Muslims were aged between 5 and 18 years old. More than 4 in 10 (43.5%) of all of Ireland's Muslims lived in Dublin city and suburbs.
In April 2016, there were 62,187 Orthodox Christians in Ireland, an increase of 37.5% on 2011.
There were 24,211 Presbyterians, a slight fall on the 24,600 five years previously.
The Apostolic and Pentecostal population has increased from just 3,152 persons in 2002 to 13,350 in 2016, an annualised growth rate of over 10.9%.
Among other Christian religions, there were 9,724 Evangelical Christians and 6,471 Methodists.
Jehovah's Witnesses (6,417 persons), Lutheran (5,329) and Baptists (3,957) were the next largest groups.
A further 37,427 identified themselves as 'Christian', while 5,409 persons stated that they were 'Protestant'.
Looking at other, non-Christian, religions, the 14,332 Hindus recorded in Census 2016 was a 135.6% increase on the number in 2006. The number of Buddhists increased to 9,758 (+12.1%) since 2011, while there were 2,557 Jews, an increase of 28.9% (573) on five years previously.
Tags: