Here's one ticket that's sure to be in demand this New Year – Irish soft rock legends Smokie are returning to Letterkenny on Saturday 17th Feburary 2018.
After the success of their last visit in Feburary as part of their "It's Your Life Tour" the band were so overwhelmed by the Donegal audience that they decided to include the Clanree Hotel as part of their tour dates in 2018.
Tickets are on sale now on Ticketmaster here: www.ticketmaster.ie/smokie-40-years-of-hits-co-donegal…
Smokie Live in The Clanree Hotel Saturday 17th February 2018! Popular Band Smokie are Live in the Clanree Hotel on Saturday 17th February 2018 on what is expected to be a night not to be missed! These would make for a brilliant christmas present! Tickets can be purchased from The Clanree Hotel on 00353 74 91 24369 or on www.ticketmaster.ie www.joegallagherentertainments.com

Publié par Joe Gallagher Entertainments sur jeudi 30 novembre 2017
You just have look at the Guinness Book Of Hit Singles and you could be forgiven for thinking Smokie's success story was a 1970s phenomenon.
After all, 11 of their 14 British hits came in that musical decade. However, their massive success story has continued to flourish around the globe including Scandinavia, South Africa, Germany and even China.
Smokie are a band which has sold out tours and gained platinum records in four decades – 70s, 80s, 90s and the present day.
A quick recap then on past glories. Smokie first got together at school in Yorkshire in the late 60s. After going through various names and styles, they signed with Mickie Most's then ultra-hot RAK label and found themselves chartbound. Songs like 'If You Think You Know How To Love Me', 'Don't Play Your Rock'n'Roll To Me', 'It's Your Life' and 'Oh Carol' (all Top 10 entries) became radio staples and gave Smokie their ticket to travel the world.
The sound was a combination of hook-laden songs and Smokie's distinctive but unashamedly Stateside-influenced soft-rock harmonies, their secret being their vocal blend – a rasping, emotion-drenched lead set against melodic harmonies that produces an unique, bittersweet result.
After accumulating worldwide sales of over 30 million, Smokie made 'Wild Horses', a 1997 Nashville-recorded album that cost the band a quarter of a million pounds to produce. It gave them a foothold in US country radio, while hits collections continue to find a ready market. That trend continued with 'Uncovered' and 'Uncovered Too', which were both huge hits throughout Scandinavia – reaching the top 5 in Denmark, Finland, Norway and Sweden – achieving double platinum status.
In 2003, Smokie released the ultimate greatest hits collection.  Entitled "The Box Set", the collection consisted of 10 CD's spanning the decades from the 1970's through to today and gained Gold and Platinum awards throughout Scandinavia.
2004 was spent mainly in the studio writing and recording their brand new album "On the Wire". Written mainly by Smokie themselves, this chart topping album has proved that Smokie are still on top form
When Vladimir Putin decided to assemble a group of artistes from around the world to perform to perform at his personal New Years Party at the Kremlin Palace he told his aides that they simply had to get his favourite group you guessed it none other than Yorkshire's very own Smokie
2006 saw the band release their new album "From The Heart" a fabulous love album with three brand new songs.
2008 saw the release of the band's latest release, Smokie's All Time Greatest Hits Collection, a 3 CD collection of Smokie's best known tracks, including Alice, Will You Still Love Me Tomorrow, I'll Meet You At Midnight, along with some other favourites Whiskey In The Jar, (I Just) Died In Your Arms Tonight, I Don't Wanna Talk About It
2010 saw Smokie gain new chart success with a CD of brand new material, Take A Minute. Released initially in Denmark in August of that year, it peaked at number two on the Danish album chart. Releases in the remainder of Scandinavia and Germany took place during October, with the single "Sally's Song" — a continuation of the story of the other character in "Living Next Door to Alice" — also released.
This decade has seen the band on an extensive tour of the UK, Australia, The Far East, and they are currently on a sell-out tour in Europe.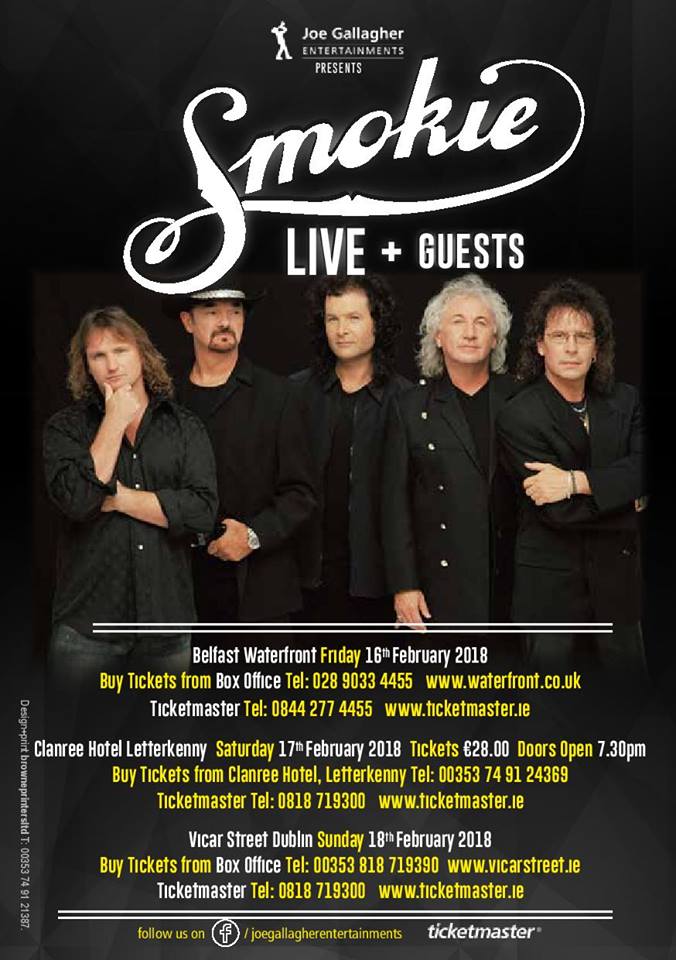 There's no smoke without fire, so the saying goes – and Smokie are still firing on all five cylinders!
Get your tickets now for the show on Saturday 17th February 2018 at Clanree Hotel Letterkenny at www.ticketmaster.ie
Book by telephone by calling Ticketmaster on 0844 2774455
Tags: