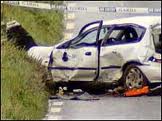 A Donegal County Councillor wants crashed cars left at the site of serious accidents across Donegal.
Fianna Fail councillor Patrick McGowan said the move would raise awareness amongst people about the dangers on the county's roads.
Speaking at the latest meeting of Donegal County Council, Colr McGowan said he also wanted white crosses placed at the scene of fatal road crashes around the county.
"They don't have to be huge crosses but simply something that would spark a thought in somebody's mind.
"It is something that has been done in County Sligo and I think it works well. It is something we could certainly think about.
"The placing of crashed cars at scenes of carnage where they could be left for a while is another idea I think we should look into," he said.
Colr McGowan said that Donegal has taken the lead in many aspects of road safety and it is important to continue to do so.
"Nobody needs to be reminded of the carnage on Donegal's roads in recent years, especially most recently in Inishowen.
"Whatever we can do to save even one life is worth doing," hes aid.
Ends