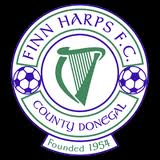 Finn Harps have insisted they will pay all their debts after a freeze was put on their hopes of raising a cash windfall through last weekend's Celtic friendly.
The game, which the club hoped to attract more than 3,000 to, had to be called off because the Glasgow side could not travel because of the wintry conditions.
It is now hoped that the game will take place between March and April.
Last night Harps chairman Joey O'Leary said all those owed money will be paid "at the earliest opportunity."
"We were due to get a certain percentage of the gate receipts from the game which had been earmarked to pay a few creditors.
"Unfortunately, it will probably be the New Year now before we can pay those bills which is disappointing," he said.
O'Leary also paid tribute to a number of the younger Finn Harps fans who got stuck in to prepare the game.
He added that Harps, who had been carrying a large debt in recent years, may now operate a small trading profit going into 2011.
He said he hoped the next time Harps face Celtic, they will be playing the Scottish League Champions!
Ends