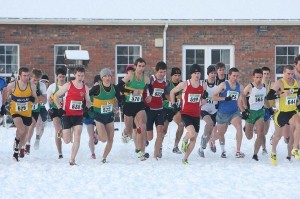 FINN Valley's Under-12 boys squad delivered the best reward for the club at the national event in Derry at the weekend.
Despite four inches of snow falling during the meet, the lads were undaunted and once again led by Denver Kelly (7th). Aaron Mc Glynn (14th), who was unduly troubled by a poor start, put the head down and chased to the line while Jamie Keegan again stayed with the challenge finishing 33rd and Samuel Mc Clintock came home a reputable 52nd.
Interesting that Denver, Aaron and Jamie also claimed medals with the Ulster team and further encouraging is the fact that Samuel,Aaron and Jamie are under 11 next day out in two weeks in Tullamore. They are joined by Luke Gavigan which must surely be high for further success .
Well done coach Peader Mc Granaghan . Scoring Finn Valley 106 pts; Kilmurray /Ibrick ,Co,Clare 115 pts and D S D  155 pts.
The girls Under 12 did not cope with the weather and best of the bunch was Amy Crossan in 34th, with the team placing 9th. The under 14 girls were dissapointing 8th team with Leanne Kelly 25th the best .
In the boys 14 age range Oisin Gallen was the first finisher  in 25th while Shannon Mc Laughlin, in 51 st place, was best of the Under 16 girls.
There were high expectations for medals in junior men but due to a combination of circumstances it didn't happen. Placings James Speight 21st on 20-26, Dermot Brennan 27th at 20-51, Mark Bonner 30th 21-07 and Justin Browne 35th on 21-48. Pauric Mc Laughlin and Mark Hoydnf.
Senior women, once the basis of tremendous success, were outclassed including Catriona Jennings (16th),Teresa Mc Gloin (24), Karen Crossan (34th) and Michelle Harvey (38th) to close in 5th team .
The men grabbed medals behind Dublin and Cork with Paddy Brennan (25th), Cieran Doherty (36th), Noel Collins (41st) ,Pauric Mc Kinney (46th) ,Jon Patton (53rd) and Shane Bonner (65th) – somewhat of a breakthrough for the Convoy man at senior national level.
Overall, it was a poor day overall for the Valley contingent rescued somewhat by the young lads.
But it's now a case of getting back on track as we prepare for Tullamore Dec 19th. After that its the Stephen's Day 5k.
The annual presentation function for the youth athletes due for Sunday evening did not take place and is rearranged for next Sunday 7-30pm .
Sympathy is extended to Hugh Mc Clafferty and his entire family connection on the death of their mother Cissie at 96 years .
From Downings Hugh was Principal in Alt and Castlefin national schools and was formerly chairman of Finn Valley AC. May she rest in peace.
Ends