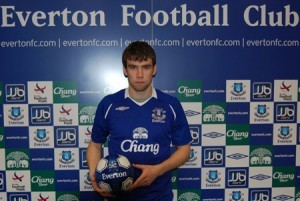 THEY'RE worth more than Stg£20 million between them but both goalkeeper Shay Given and lightening right-sided star Seamus Coleman were left on the benches during weekend Premiership clashes.
Given's place on the Manchester City bench in their dull 1-1 draw at Stoke City was perhaps no surprise with England's No1 Joe Hart being preferred once again. And it could be argued that he should have saved Stoke's equaliser.
Given has been linked with a host of other Premiership clubs and may well be on his way out the door of Eastlands in the January transfer window.
All the talk at Goodison over the weekend centred on whether or not David Beckham would join the blue half of Merseyside on loan.
But there was surprise amongst the fans that club favourite Coleman was left on the bench – and wasn't called upon despite a 4-1 drubbing by West Brom. Goals from Schamer, Brunt and Tchoyi and an og from Distin saw the Midlands team win away from home for the first time since September.
The Killybegs player will be hoping he can get back into the Everton side for the clash with Chelsea at Stamford Bridge next Saturday.
Meanwhile Given may make a return for City this Wednesday in their Europa League clash in Manchester with Red Bull Salzburg.
In the latest rumours surrounding Given, Fulham manager Mark Hughes refused to be drawn on reports linking him with a move for the player he took to Man City during the transfer window.
"If opportunities present themselves and they are within our means then we will try to add to the quality of the club. It's been discussed already.
"We're getting linked with a lot of players. More often than not they're normally wide of the mark, so that's what I would suggest with some of the names this morning in fairness," said Hughes.
"We obviously look at what's available and if we think the quality is going to enhance what we have then hopefully there'll be situations we can pursue and we'll get close to doing deals," he said.
"But it's not easy because when you're going for top players it needs significant funds to conclude deals so we have to be careful with what resources we have."
Hughes wants to keep goalkeeper Mark Schwarzer beyond January. He added: "We're hopeful he will commit to Fulham very soon."
Rumours linking Given to Arsenal persist – as well as Liverpool, with the latter fearing they could lose Pepe Reina in January.