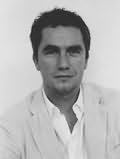 DONEGAL author Rowan Somerville has won a major UK award –  the Literary Review's Bad Sex in Fiction Award!
The gong is given to writers who use ridiculous and crude descriptions of sex in novels.
Somerville is from England but his family are from Co Donegal – and he lived here in the county until recently.
He was given the award for his second novel The Shape of Her at a club in London.
Judges of this year's award referred to a number of passages including: "Like a lepidopterist mounting a tough-skinned insect with a too blunt pin he screwed himself into her."
They also cited: "He unbuttoned the front of her shirt and pulled it to the side so that her breast was uncovered, her nipple poking out, upturned like the nose of the loveliest nocturnal animal, sniffing the night. He took it between his lips and sucked the salt from her."
Somerville was presented with his award by film producer Michael Winner
"It's a very Zen prize because to win is to lose," said the Donegal man.
 "Out of context it sounds like a bad description of making love, but it obviously represents much more than that." he added.
He added: "I think the whole thing (awards) is a little pathetic to be honest. It's all very harmless but really it's kind of like a group of teenage bullies in a classroom pointing and sniggering at someone who said 'bum'."
Other Irish writers to be shortlisted for the award include Roddy Doyle for A Star Called Henry , Jamie O'Neill for At Swim, Two Boys  and Brian O'Doherty for The Deposition of Father McGreevy .