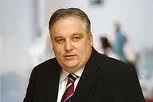 LABOUR PARTY county councillor Frank McBrearty is expected to address a meeting of Donegal County Council concerning issues surrounding his discipline.
www.donegaldaily.com understands the Raphoe politician was very annoyed that the Donegal Corporate Policy Group (CPG) met without him being there.
The group, which includes councillors Noel McBride FG, Ciaran Brogan FF, Dessie Larkin FF and Padraig MacLochlainn, discussed a recent outburst by Colr McBrearty following a council meeting.
The allegations discussed include the fact that Colr McBrearty allegedly used inappropriate language in exchanges with the county manager Seamus Neely.
The meeting, which was held in an informal basis, is believed to have discussed the possibility of whether Colr McBrearty should issue an apology to the manager.
Colr McBrearty would not comment on the matter but did confirm that he was considering a number of issues which have been brought to his attention.
A number of members of the CPG refused to speak on the record when contacted today.
However members said the point of the meeting was to discuss policy issues which could then be brought to the full council meeting at a later stage.
Colr.McBrearty has now been invited to speak at next Monday's meeting of the council.
Ends