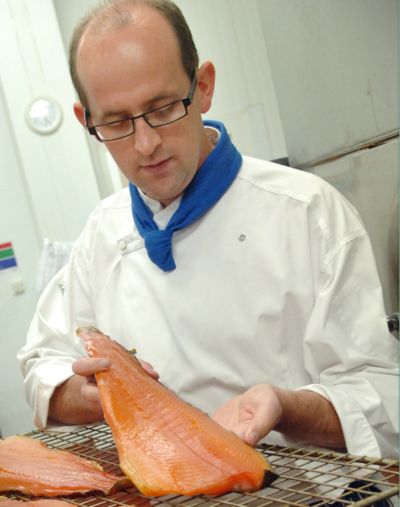 He is being hailed as a legend by the women of Inishowen.
Wives and girlfriends have been pouring praise on chef Brian McDermott for seemingly achieving the impossible.
The 35-year-old father of two has been going into rural parts of Donegal  and teaching their men how to cook.
Lads who could not boil an egg are now discussing the merits of pan fried monkfish Mediterranean or hake poached with mascarpone and basil.
Moville man Brian is the country's first "Community Chef" who teaches the benefits of fresh, healthy food to out-of-the way communities.
And he is also teaching them how to grow their own vegetables and a huge variety of herbs in eight specially created community gardens across Donegal, transformed from wasteland.
Not content with getting dads and granddads toiling over the cooker, Brian has also been taking male teenagers hanging around street corners and turning them into skilled young cooks.
This quiet revolution has been going on for the last two years mostly around the Inishowen Penninsula.
And it was sparked by a crisis in Brian's own health when he was told he would have to drastically change his own lifestyle or face the consequences.
Feeling unwell and run down, the chef who used to regularly spend 16 hours a day in kitchens was dumbstruck when doctors told him he was suffering from dangerous high blood pressure and cholesterol.
Brian, who was ordered to quit work immediately for two years, put much of his condition down to 17 years of stress in busy kitchens and the ingredients of classic cooking, namely salt, cream and fats.
He decided instead of sitting around doing nothing to go out and teach other men how to cook and eat properly.
He started with mixed classes of men and women but soon decided they didn't really work because the males were too inhibited.
He launched men-only classes which were a phenomenal hit and he now has 800 graduates from his courses.
"Men are very inquisitive to start with but rapidly become very, very passionate about cooking," says Brian.
"The first time they come in they have their heads down, looking around to see who else is there.
"If they see someone they know it is a comfort leaning post and within two weeks they will be fighting over prices of pans and where the best place is to buy them.
"I love the men's classes because they are a night out and a lot of fun. They go ballistic over them and ask for more and more. These are men who would never have cooked before."
Brian said he was continually being approached by women saying, "Oh my God, you have transformed my husband."
Another wife laughed as she told him: "If I hear your fecking name in my house one more time….."
One of Brian's proudest successes was getting teenage lads in Moville to take up classes.
"A few guys I knew were just hanging around the street and I asked them if they would be interested in cooking.
"They were almost resentful when they came in. The first day there were eight and the next week there were 14.
"We ran the course for six Monday nights and at the end they invited in their parents and cooked for them. The parents were totally proud.
"These guys have stayed on board and two of them have now gone on to catering college."
Brian has just published a book of recipes called Reunite with Food. He hoped 100 might turn up at the launch in Moville's Caiseal Mara Hotel but was stunned when 450 people arrived on a Monday night.
The first-time author said his role as a community chef was to work with rural people who would not normally have access to cookery classes.
"I am trying to get people to eat healthier, more nutritious food and to improve their well-being and equip them with the essential cookery skills to achieve that. And to do it in a light-hearted way!
"I am getting away from French classical cooking and taken salt completely out of the recipes. Latest figures for salt intake in Ireland are mental.
"I am trying to replace that with fresh herbs and anything you can grow yourself.
"I am also encouraging men to go for family style meals with people sitting around the table again."
Brian, who gives demonstrations and workshops across the North West, was supported by Donegal County Council and HSE Health Promotion North West in finding and opening suitable community gardens across Donegal.
His offbeat lessons have included taking teenagers to local piers, choosing fresh fish off the trawlers, and cooking on the quay.
"Cooking should be fun – and that's what we try to make it," says Brian.
This article first appeared in the Sunday World magazine.
Reunite with Food is available from the website www.communitychef.ie
end