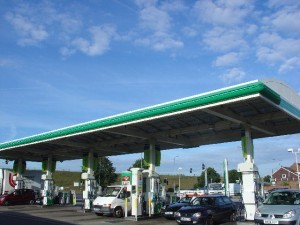 BORDER town filling stations relying on Northern drivers have been left devastated by the budget.
Towns like Bridgend are the only reason many Northerners cross the Border – with so many shoppers from Donegal heading the other direction.
Prices for petrol and diesel in recent months have been becoming less competitive.
Now yesterday's announcement that an additional 2 cent will be added to the price of diesel and a further 4 cent to petrol will leave Northern motorists thinking twice about coming across the border.
Yesterday's budget has further wiped out that price difference – and hundreds of jobs along the Border with it.
The Government's dreaded €6 BILLION cutback budget included a raft of cuts.
The dole and other payments cut by €9 a week, with child benefit being slashed by €10 a month per child, and double that for the third child.
The lower paid – who traditionally have not paid tax – will be brought into the tax net gradually.
While there are to be no changes to the top and lower income tax rates, tax bands are to be narrowed which will mean more people pay the higher rate of income tax.
Income tax bands and credits to be cut by 10 per cent.
Fat cat civil servants at the top of semi-state bodies will keep their salaries, but new appointees to semi-state bodies will be capped at €250,000.
The Taoiseach's salary to be cut by an additional €14,000 while his  Ministers will take a €10,000 cut.
They'll also find it more difficult to get around in the future because the state car fleet is being reduced by a third.
The Government will cut back on travel taxes, a welcome boost for tourism. However we will get water charges, and a property tax eventually
Once again Donegal people will bear the brunt of the cuts in a county with already higher than average unemployment.
Finance Minister Brian Lenihan delivered his bruising budget – the most painful for many years to claims that he had showed no imagination and had made no plans to create jobs.
In one of his first speeches in the Dail, Sinn Fein's new Deputy, Gaoth Dobhair's Pearse Doherty attacked the Minister for Finance for once again atatcking the less well-off including the unemployed and the poor.
In a thumping speech which left Tanaiste Mary Coughlan visibly shaken, Doherty said this budget was the deathknell for the Government.
And he vowed he will do all in his power to make sure that Fianna Fail get booted out of office in the New Year.
Ends