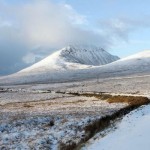 THE PEOPLE of Donegal will have to wait until Friday until they see any kind of return to normal temperatures.
People woke up again this morning to more weather hell – after another night of snow, freezing fog, black ice, -12C temperatures – and even power cuts.
Many roads including the back of Errigal road and the Carndonagh to Drumfries road will remain closed until at least tomorrow with up to an inch of ice on the roads.
Council spokesman Michael McGarvey appealed to people to continue to take care on all roads.
"There is going to be a gradual thaw but the roads are still trecherous in many places and we would ask poeple to take care.
"There was snow again this morning in Glenfin, Doochary and Greencastle but we are hoping temperatures will rise now across the county," he said.
Power was eventually restored to more than 20,000 homes in Creeslough, Gaoth Dobhair and Derrybeg around 7.30pm last night after the weather disrupted lines connected to the high voltage network.
A number of crews were disptahced to the area and eventually restored connection after a three hour blackout.
And ESB spokesman Brian Montayne  told www.donegaldaily.com the Donegal ESB network needs a major overhaul.
"This event highlights the urgent need for reinforcement of electricity networks in Co Donegal to enhance the quality of electricity supply, an investement that will be made in the months and hears ahead," he said.
The good news is that an Atlantic front will help begin a thaw on Friday.
The bad news is that weather forecasters believe the Polar air will return early next week – and bring with it more sub-zero temperatures and the chaos that causes.
And there are fears that Donegal will lose out today when the National Roads Authority dishes out its supplies of salt to county councils – with claims Dublin and the East are getting more than their fair share.
More snow is predicted for today in parts of the county. Once again Gardai and the County Council are appealing for motorists to drive slowly on all routes.
So where is all our salt?
Donegaldaily.com has learned that our County Council officials are furious with the amounts of salt being supplied by the NRA.
Speaking in the Seanad yesterday, Senator Cecelia Keaveney said she took her own life in her hands trying to get to Dublin.
She said she wanted to know why the people of Donegal appeared to have been snubbed while salt supplies were readily available across the east coast.
"The National Roads Authority has monopolised the use of salt. I want to outline that because the NRA has taken that centrality, Donegal County Council doesn't have salt.
"It used to be always able to manage the salt reserves by getting in more from Carrickfergus but we can no longer do that.
"The mixture of sand and salt we now have to use in Donegal is totally incompetent within half an hour of the snow falling to deal with it.
"I had to get a lift to Derry and then get the train to Dublin. The entire North West is being ignored. There are roads closed today and are discommoding thousands of people.
"We need an urgent debate as to why we can't cope with a small amount of snow and a small bit of ice," she fumed.
Unusually in these times, there was one Fianna Fail politician getting cheers from every single person in Donegal today.