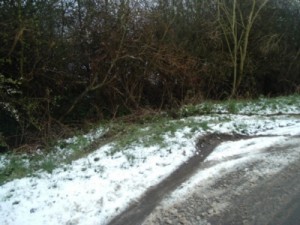 BOY RACERS are causing havoc across the county, using the horrendous weather for sick thrills and spills, donegaldaily.com has been told.
We have four separate reports of incidents where boy racers have been terrifying other road users by spinning tyres and showing off in the horrendous road conditions across Donegal.
We have been told of snow races by the so-called snowriders in Ballyshannon, Gaoth Dobhair, Ramelton and Letterkenny.
One frightened mum from Ramelton told us: "I was driving my children back from school when I could see an idiot coming towards me and his red car was swinging all over the place.
"At first I thought it was the condition of the road because it was pretty bad with ice but the closer he got to me, I realised he was doing this for fun.
"The car was packed with other kids who were obviously encouraging him. I just thought he would plough straight into me….I just pulled over and was glad he passed me."
Other incidents have been reported in Ballyshannon with boy and girl racers – and there have been several incidents in Gaoth Dobhair.
And in Letterkenny main street there have been snow races late at night between joyriding thugs.
The reports come as Gardai had issued another weather warning across Donegal this Tuesday morning.
Temperatures overnight fell to -10C and road conditions are treacherous. A number of roads are particularly bad – especially around the Twin Towns, Dunlewey, Laghey and in the east of the county.
There were dozens of minor incidents in the county yesterday, but thankfully there are no serious injuries, although Gardai have again appealed to motorists to slow down.
Anyone travelling to the North in the next 24 hours have also been warned that there has been a massive snowfall there – with poor conditions in County Derry and on the Glenshane Pass.
Donegal County Council has again warned that many roads remain dangerous, even after they have been treated.
 "Gardai have advised that where travel cannot be avoided, a much reduced speed should be used and increased care taken, as motorists can expect black ice and treacherous conditions, even where roads have been treated," it said.
Weather forecasters predict temperatures will rise late on Thursday and into the weekend, bringing a much welcome thaw.
However arctic conditions are set to return by the middle of next week, and could continue through to Christmas.