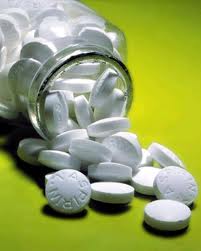 ONE OF the boffins who discovered the cancer-preventing elements of aspirin has said more studies are needed.
There has been widespread publicity this week about aspirin – and amazing research which shows it can help prevent so many cancers.
Taken with food or milk, the simple pill first discovered a century ago seemingly has amazing qualities other than curing a headache.
Many doctors in Donegal prescribe aspirin to heart and stroke patients because of its benefits in preventing further attacks.
Professor Jill Belch was part of a research team which found that taking an aspirin and drinking a glass of milk very day for at least five years could reduce death rates from cancer by 60%.
Aspirin is already taken by patients at risk of heart attack or stroke and the study has now revealed it could also help ward off some forms of cancer.
However, because aspirin can cause internal bleeding scientists are not calling for healthy people to begin taking it every day.
Professor Belch said: "We know already that aspirin prevents people from having further heart attacks or strokes and there had been a suspicion that it might protect those folk from cancer but nobody had ever proved that before.
"This study has taken eight studies involving a huge number of people — 25,000 — and has looked at the cancer deaths between those who took aspirin every day and those who didn't.
"It has shown that it does decrease cancer risk if it is taken for five years or longer but we don't know if it prevents it or just delays it."
Professor Belch added that although the benefits of taking aspirin appear to outweigh the risks, more research has to be done before a daily aspirin is recommended for everyone.
She said: "The big question is, should everybody over the age of 50 take an aspirin every day? This is such a big area of interest that experts need to start looking at it straight away.
"There are some side-effects from aspirin, like stomach bleeding, but even taking that into account the death rate will still fall.
"It is a big study and nobody could really question the results because they are so powerful."