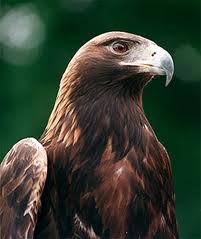 THE HEAD of the project to reintroduce magnificent golden eagles across Ireland says he believes many more of the birds have been poisoned.
Conservationist Lorcan O'Toole was speaking after another dead bird was found in Co Tyrone – the third of a group of 58 eagles released since 2001.  
Mr.O'Toole, who is based at Glenveagh National Park, reveals he has anecdotal evidence that at least three other birds have also been poisoned.
But because the giant birds were not fitted with satellite tags, it will never be known if they survived.
Since 2005 a total of eight birds have been fitted with the tags to track their whereabouts.
The latest poisoned bird, found on November 1st in Killeter Forest Park in Tyrone, had been fitted with such a tag and suspicions were raised when it did not move for a number of days.
"We have anecdotal evidence which suggests at least another three poisonings but unfortunately we have no carcasses to prove it.
 "We have heard strong evidence that two birds were poisoned in Co Antrim and another in Fermanagh. The wing tags all pointed to them being Golden Eagles but we can never prove that.
"We can only hope that people begin to learn that Golden eagles and other released birds of prey are not a threat," he said.
The latest poisoning caused uproar among bird protection groups on both sides of the border after a post mortem revealed the bird was killed with a poison known as Carbofuran.  
The bird is among 20 birds of prey including Red Kites and white-tailed eagles which have been poisoned in the past couple of years.
Mr O'Toole said it was now time to get tough on people poisoning birds.
"The days of saying that someone is an old farmer who just doesn't know better are over. Laying poison is against the law and people should know that.
"We would ask anybody who knows about people laying poison to contact the Gardai on the National Parks and Wildlife Service," he said.
Ends