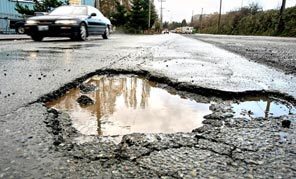 DONEGAL MAYOR  Cora Harvey has vowed to fight the Government for urgent cash to fix the hundreds s of potholes which have emerged on our roads after the Big Chill.
Craters are evident on almost every road from Letterkenny to Lahey.
"At the moment the priority is to make roads passable across the county. Once the thaw sets in and we see the damage, we will have to make a call on that.
"Like last year the damage was extensive and we got funding from the Department at that time so we will have to wait and see," she said.
Many of Donegal's rural roads are still treacherous – and may never see a gritting lorry this side of Christmas.
A source at Donegal County Council has revealed that despite the delivery of 270 toones of salt yesterday (THURS), stocks are still low.
 "We don't have enough salt or the manpower to tackle rural roads. There is a thaw this weekend and that will help but with more Arctic conditions forecast for the middle of next week, we are snookered.
"Our priority is to keep main routes open but we realise that we just can't do every road. And if the next cold weather system kicks in for another week, some people will be left behind."
The source blamed the National Roads Authority, insisting Donegal is not getting its fair share of grit.
The comments confirmed the view of Senator Cecilia Keaveney who told the Seanad earlier this week that the NRA was hoarding stocks for the east of the country.
"Some people will have to deal with treacherous roads until Christmas and beyond," added our source.
Last night was again very cold across the county with sub-zero temperatures in many places, hitting -6C in some places.
But it is expected to have been the last of the cold nights for this period of weather.
However temperatures are expected to rise to +5C later today and increase over the weekend.
That will be a welcome relief for traders and other businesses across the County.
Dozens of events ares till being cancelled as thick ice threatens travel while many schools will remain closed until Monday next.
Ends