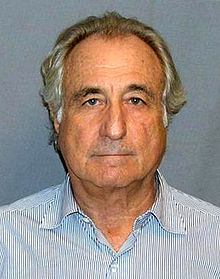 EXCLUSIVE INVESTIGATION LATEST: DOZENS OF investors in an illegal Donegal investment scheme fear they may never get their money back – though one of those who sold investments insists everyone will get their cash.
The scheme is similar to one employed by notorious American crook Bernard Madoff (pictured right). His son Mark Madoff committed suicide in the US last night.
In these sort of schemes, many people do get returns. But many others do not.
The get-rich-quick scheme however is illegal and Garda sources have confirmed that even if all investors get their cash back, they will seek a number of prosecutions.
The Garda Fraud Squad investigation into the mafia scam centres on an ex-prisoner foreign national. However we can reveal tha at least one well-known Donegal man has defended his role in the scheme, insisting it is a legitimate business, that his boss is in the clear and that everyone will get their money back.
In a conversation relayed to donegaldaily.com the well-known Donegal man initially denied Gardai were investigating the scheme. When it was pointed out that his boss's premises had in fact been raided by the cops, he then admitted there is an investigation but that he believed the investment scheme was and is legitimate. He said he hasn't seen his boss 'for several weeks'.
Friends believe that he too has been taken in by the scam too – and that he thought he was selling legitimate investments.
Donegaldaily.com has interviewed a number of people around the county throughout the day. These included people who did invest in the scheme and did make substantial returns. A number of other investors said they had been told they will get their cash back in the next few days.
One of those told us last night: "I know people think we were mad investing in this scheme but it was presented very well and by people I knew very well.
"I have to believe I will get my money back because I simply can't afford to lose it. I don't care at this stage if I don't make any money on it. I have been told that I will get my money in the next couple of days but I don't know if I will or not. I can only hope I will.
"To be honest I'm just sickened by it all. I can't even think about Christmas at the moment."
The so-called Ponzi Scheme was a fraudulent operation that paid returns to separate investors from their own money or money paid by subsequent investors, rather than from any actual profit earned.
The Ponzi scheme usually entices new investors by offering returns other investments cannot guarantee, in the form of short-term returns that are either abnormally high or unusually consistent.
They always collapse, with some of those behind them making off with the cash.
The Donegal scheme involved the scamsters telling investors that they could get between 10% and 40% on their cash investments in just TWO MONTHS.
The elaborate 'get rich quick' con involved false claims that people were investing in a company approved by Lloyds of London and Deloittes which bought liquidated stock, which was then sold at huge profit. Neither company was actually involved.
One investor was told that the company had bought four luxury Bentley cars for just €10k each and re-sold them to wealthy Arabs for ten times that figure. No such transactions ever took place. The cars didn't exist.
Another investor told us that he was told the money was used to buy cheap airline tickets in bulk which were then sold off at huge profit.
However he told us today: "I suppose if it was that easy to get 20% return on an investment, everyone would be doing it. The government could save the country if it was that easy – and the banks would be in better shape. But I got my money back – and more."
Yesterday, Friday, we reported how several premises have been raided in several towns in the county as part of a complicated Garda inquiry. Fraud Squad officers have spent a huge amount of time in undercover vehicles and premises in Ballybofey.
We can now reveal that a considerable number of leading business personalities have been interviewed as part of the investigation. Some are extremely well known in the county and beyond.
Gardai began their inquiry after a tip-off from the German police which had closed down a similar scheme run by the same convicted fraudster.
As a result of the scam, many innocent local people are set to lose fortunes after investing in schemes which have collapsed. Some of the victims are pensioners – others are ordinary workers who were sucked into the scam by professional fraudsters aided by scamsters here in Donegal.
Donegaldaily.com understands that the some investors have received their money back without the high returns promised.
However we know of one person owed €1.8M and another owed €200k. One man did get his €70k back last week after revealing to one of the crooks that he carried a legally-held firearm!
Others however have been promised their money back this weekend, but we are told a €10M account has been 'emptied'. Regardless of those claims, the 'scheme' was illegal.
Computers and paperwork were removed from several different premises for examination as part of the probe by detectives from the Garda Fraud Squad.
However it is not believed any arrests have been made at this stage.
A Garda source revealed the investigation is a part of an international inquiry and that offices at businesses in Germany have also been visited and police in Estonia are also helping the inquiry. Police in France and the UK have also been contacted.
The PSNI are closing in on a former bank employee in the North who is also linked to the scam.
Last night a well-placed source aware of the scheme told us: "I warned several friends to stay well away from this. If it sounds too good to be true, then it is too good to be true.
"A lot of people have invested huge sums. The way the Ponzi scheme works, there will always be those at the top who get their money back with interest, but there is never enough for everyone at the end and many people will lose out.
"Let's put it this way – if people are still waiting on their money, I'd be surprised if they ever see it now."
A Garda source said: "A number of premises were visited and different people were spoken to on an informal basis.
"Those who were spoken to may not have even been aware that they were involved in anything illegal.
"The investigation is part of a wider international investigation but we can't say too much more about it at this stage," said the source.
It's understood Gardai are carrying out the inquiry with the help of a number of other international police forces.
Today a well-placed source told us: "We are looking at figures between €10M and €20M. And a lot of Donegal people will have lost a fortune in the elaborate money-laundering and investment scam."
The foreign national behind the Donegal con could not be contacted tonight.
Many of the con's records taken by cops appear to show huge takings at a legimitate food establishment – compared to exaggerated lodgements from the same business. Gardai believe large amounts of cash lodged in the name of the apparently legitimate business could not have come from it.
For example a Wednesday lunchtime trade involving just six diners apparently led to the lodgement of more than €10k!
* Bernard Madoff – the American scamster – is serving 150 years in jail for his part in ripping people off for $18 Billion.
* Our investigation is continuing and we hope to expose more details in the next few hours. If you have been a victim, contact us in complete confidence using the contact form on our home page. Several victims already have. We never reveal sources and never use the names of our sources or reveal those sources to anyone.
* Please note that several Authorities have informed us that the scheme was ENTIRELY ILLEGAL. However an amnesty may be available for whistleblowers.
* This story/investigation is the subject of Copyright Laws and Action will be taken against any newspaper/website taking this story in whole or in part without prior Consent. Copyright donegaldaily.com