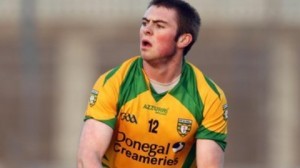 By John Gildea
Naomh Conaill's attempt to make history failed at the final hurdle when they were outsmarted by Ulster kingpins Crossmaglen.
 
After a determined first half the Glenties men failed to push on in the second half despite playing with an extra man for most of it and eventually went down 2-9 to 0-10.
 
Driven on by Leo McLoone and Anthony Thompson, Glenties produced a sparkling first half performance and had the large Glenties contingent dreaming of the clubs first Ulster title.
This however proved premature as Cross totally dominated the second have and ran out deserving winners.
 
They were helped in no small way by Naomh Conaill's long ball tactics which played into the oppositions hands who had drafted the experienced Francie Bellew in to sweep across their fullback line.
As the second half progress Glenties were forced to throw more men forward and this allowed Crossmaglen to play on the break which they did brilliantly.
 
The defining moment of the match came early in the 2nd half, where Cross had a man sent off and were reduced to 14 men, within 1 min of this Cross had the ball in the Glenties net to put them in front. This was a lead they never looked like losing and Glenties never recovered from it.
 
Naomh Conaill had excellent performances in Anthony Thompson, Eoin Waide, however it wasnt enough as the rest of the young side only played in patches.
 
While Naomh Conaills fairytale year did not have a happy ending, they have a lot to be proud off. They have just collected only their second county title and have flown the Donegal flag proudly in Ulster before falling to an exceptional side.
The future is bright for this young team and this experience will only add to them going forward.
 
ends