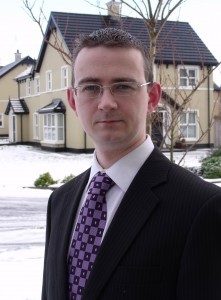 The newest entrant to the Donegal North East election campaign, Ryan Stewart, is pledging to support those who are most vulnerable and worst affected by the economic downturn.
Anti-VRT campaigner has proposed a plan to significantly write-down personal debt levels and overhaul bankruptcy laws, showing that he is much more than a single-issue candidate.
His plan, entitled "NAMA for the people" is designed to reduce personal debt levels in a structured way to allow those in difficulty to obtain court protection while they try to get a handle on their finances, protect mortgage holders who are in difficulty, and over a five year period, remove the high levels of personal debt in the county.
Mr. Stewart told donegaldaily.com: "The banking crisis has had wide-reaching implications for ordinary people, who were not at fault for the financial collapse in this country, resulting in large sections of society being unable to pay their debts.
"We have watched while those at fault have been repeatedly bailed out by the taxpayer, families juggle what money they have left to try and keep their heads above water and the government who endorsed the bailout offered no protection, instead committing us to protect those who have left us in this mess. People have been asking 'Where's my NAMA?' and I have a solution.
"My proposal offers assistance and encourages people to manage their money, however this plan is further reaching than the service currently provided by MABS.
"We cannot write down large portions of mortgages, as this will ultimately lead to a second liquidity crisis for the banks, and unless action is taken, there will be huge increases in mortgage defaults over the next four years as the austerity measures take full effect."
The Cardonagh-based candidate insists he is a serious candidate and that he can given Donegal North East a truely independent voice in Dail Eireann.
He insisted: "We have to help those at risk of defaulting on their mortgages and losing their homes. Deferring interest is not enough as a measure either, as this still leaves high monthly repayments, particularly for those who availed of high ratio mortgages of up to 100%.
"My proposal would have two angles. Firstly, the banks should be obliged to renegotiate mortgages to allow people to switch to interest-only repayments. This will allow for significant breathing space for those in difficulty.
"Secondly, we must introduce something akin to the UK's Individual Voluntary Arrangements (IVAs) which takes account of the total amount of a person's debt. Mortgages are given preferential treatment under this plan, to ensure that the interest is paid, and all other personal debt is calculated, written down and repayment spread over a five year period.
"The amount repaid would be based on a means-assessment which would take account of weekly expenditure, including bills, grocery costs, transport etc. Total income from employment, social welfare and any benefits is then calculated. The balance of the total of weekly living requirements and mortgage repayments, are then taken from the total income and this is allocated to creditors.
"IVAs exist at present in the UK and offer the protection of the courts to those following the plan, so there is a road map there which can be followed, and can be implemented quickly. They are monitored by professionally qualified Insolvency Practitioners and are subject to a binding contract.
"These insolvency practitioners assume total control of the individual's debts, removing the threat of Sheriff seizures, debt collection calls and so on. All creditors would be dealt with, not just those who shouted loudest.
"I am aware that this is something that the Law Reform Commission is looking at but it needs to be accelerated greatly to be brought before the Dail in the first session following the election not delayed until 2012 or beyond.
"For those who do not have significant other personal debt, the option of switching to interest only for five years would still be available, and people would still have the option of returning to their previous agreements at the end of the term, however any additional cash available would be placed in a form of 5-year endowment, however this again would be based on necessity.
"Performing mortgages where the individual is not in any particular difficulty would not qualify for the scheme, so there would be an assessment of means carried out.
"This actually results in a higher return per euro of debt for the creditor too, as it removes expensive legal costs in pursuing the debt, and gets them something back instead of a complete default or non-payment of the debt.
"At the end of the term, as the economy recovers, people will have jobs, house prices will have recovered leaving lower levels of negative equity, and there would be a lump sum injection of capital to the lenders in the form of endowment maturity, taking the burden off the taxpayer.
"My election pledge is that I would protect the most vulnerable in our society, and this plan will do that, but extends to all levels of society. I have much more to offer than one issue and over the coming weeks I will prove my credentials to represent the people of Donegal North East with an alternative to what is being offered by the mainstream parties."