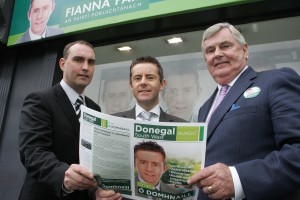 The Donegal Gaeltacht is set for a massive 200 jobs boost, donegaldaily.com can reveal.
The posts will be created out of €2.9m of government funding awarded to development body Udaras na Gaeltachta to fund 55 projects in Gaeltacht areas across Ireland.
More than 90 of the jobs will be based in existing companies in Derrybeg and Dungloe.
Donegal Fianna Fail senator Brian O'Domhnaill said the jobs would be a major boost to the local economy.
He also said it was further evidence of the government's commitment to protecting Ireland's heritage.
Senator Brian Ó'Domhnaill has confirmed that Údarás na Gaeltachta will create 193 jobs this year. The significant funding will be provided to the following projects:
– Bainistíocht Áras Ghaoth Dobhair Teo, Mín an Iolair, Doirí Beaga
€30,000 to assist in the provision of additional services.
– Machaire le Chéile Teo, An Mhachaire, An Clochán Liath:
€10,044 to assist with further development of Ionad an Mhachaire and provide additional facilities and services.
– Comharchumann Forbartha Ghaoth Dobhair, An Chrannóg, Doirí Beaga:
€9,900 to assist in the promotion of its development plans
Senator Ó'Domhnaill has described the announcement as a major boost to the local economy and further evidence of the Government's commitment to protecting our heritage.
"I am delighted that Donegal has secured almost half of the new positions provided to Gaeltacht areas around the country. Of course it is a welcome boost to local communities, but this should also be recognised a significant jobs announcement nationally.
"It re-emphasises the importance of the enterprise functions of Udarás na Gaeltachta and I welcome the Government's decision to protect these functions."
"Through my work at Údarás and with the Government, I am committed to ensuring that the needs of our Gaeltachta are put at the top of the national agenda. I wish to pay tribute to those who work tirelessly to support the economy and culture of these areas. I am delighted that such worthy projects have been granted the support they need to achieve this important goal," concluded Senator Ó'Domhnaill.