EXCLUSIVE: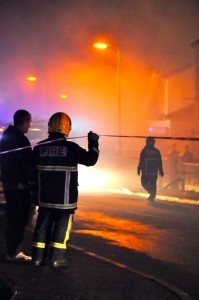 A NUMBER of families cheated death in Raphoe last night (WED)  when a house-fire sent smoke passing through their shared attic space – almost choking them.
One man was rescued by passers-by after the blaze broke out in his home at St.Eunan's Terrace around 5pm.
But there was uproar among residents when firefighters were hampered by a lack of water pressure in the area.
Some of the seven firefighting units were forced to pump water from hundreds of metres through the estate and across fields to put out the fire.
Residents from another seven houses were evacuated as fire crews from Strabane, Castlederg, Stranorlar, Letterkenny and other stations, battled to keep the blaze from spreading.
At least one other house received fire damage while there was smoke damage to other houses along the terrace.
There was speculation that some of the families may have to stay out of their houses for Christmas because of the smoke damage.
It is still unclear how the blaze started but a full fire investigation unit, including a mobile incident room, was at the scene of the blaze last night.
There was further drama when fire officers discovered the blaze had heated an oil tank at the rear of one of the houses.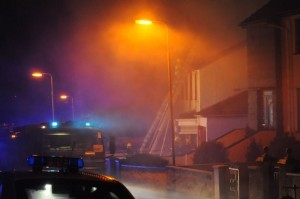 Crews doused the tank in water and foam to prevent it from over-heating while a number of other houses on the 79 house estate were also evacuated.
The electricity was also cut off from a number of homes as a precaution.
One resident said there was a lot of anger among locals that it took fire teams so long to get water to the scene.
"It wasn't the fire crew's fault. The water pressure was so low that they simply couldn't get the water to the fire quick enough.
"There's no question the council have some questions to answer about this. A lot of people were gathering last night at the scene and that's all they were saying. There was a lot of anger over what has happened.
"This could have been a real tragedy and people could easily have been killed. It's bad enough that one family have lost their home and another has been damaged but now it looks like it will be weeks before the other houses will be sorted out.
"It's horrible to think that people will be out of their homes for Christmas but at last nobody was seriously hurt," said the local resident.
The man who was rescued by young passers-by, who is in his late 50s, was not understood to be injured in the blaze.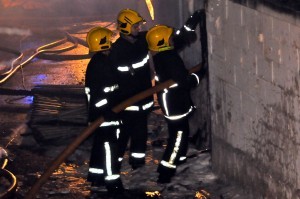 He was understood to be alone in the house at the time as seven children are grown-up and have left the family home.
His wife was believed to be at work when the blaze started.
Ends