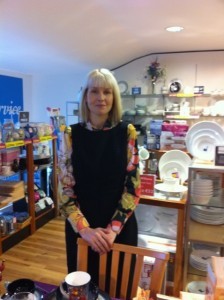 BUSINESS PROFILE WITH Michelle Yeates of Menary's & Tempest stores in Letterkenny.
Donegaldaily.com: What is your career and what do you do?
Michelle: I am fortunate to work for one of Ireland's leading independent retailers, Menarys Retail Ltd and Tempest Retail limited. I am based in our store in Letterkenny and also perform a supporting area role for our stores in Strabane and Carrick On Shannon.
Donegaldaily.com:Tell us about your first job and how much were you paid?
Michelle: My first job was a part time job in the drapery section of Dunnes Stores when I was sixteen, after school and at weekends. I was paid £2.01 per hour and my first pay packet was €18.
Donegaldaily.com: What was your first success in business?
Michelle: When I finished college I secured a place on a 3 year apprentice training program with a leading Department Store in Dublin. This gave me access to extremely talented and experienced professionals who were not only great role models but who had vast experience in the business.
Donegaldaily.com: Name the one local or international business person you look up to?
Michelle: I really admire Mary Portas, who is so passionate about retail and about the standards of service that should be the rule and not the exception. She has championed the idea that whether you are the smallest corner shop or a high street brand that if you look after your customers they will look after you. It's part of the culture at Menarys that we always go the extra mile for our customers and as we have been in business since 1923, I would say its something that works.
Donegaldaily.com: What has been your biggest mistake in business?
Michelle: You'll have to wait for my memoirs for that one.
Donegaldaily.com: What is the most valuable piece of advice you have ever been given?
Michelle: 'The customer is the purpose of your work and not an interruption of it.'
Strive for 'Excellence in Everything'
Donegaldaily.com: What advice would you give to someone starting out in business today?
Michelle: Try to do what you do really well. Know who your customer is and know what they want.
Donegaldaily.com: What one item would you take with you to a desert island and why?
Michelle: It would have to be sunscreen, listen to the Baz Luhrmann song!
Donegaldaily.com: What item can you not do without?
Michelle: Probably my mobile phone.
Donegaldaily.com: What item would you prefer to do without?
Michelle: Definitely my mobile phone
Donegaldaily.com: What do you do in your spare time (if you have any)?
Michelle: I always make time to read something new every day.
Donegaldaily.com: When will you retire?
Michelle: No immediate plans!
Donegaldaily.com: What's your tip to surviving the recession?
Michelle: Work hard
Donegaldaily.com: What one thing would you do if you were Finance Minister to help business?
Michelle: I would seriously look at a scheme to stimulate the economy rather than draining all disposable income from it. The Australian government had a great package where people got a tax rebate of approx €900 to spend on whatever they wanted and it helped kick start their economy.
* Interview with Greg Harkin