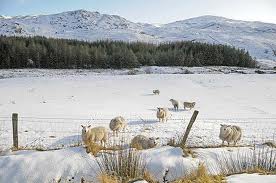 DONEGAL IS SET to be lashed with snowstorms today, with high speed Arctic winds and wind chill temperatures of an eye-watering-12C.
Met Eireann is predicting a polar freeze right through until Christmas – as the National Roads Authority supplied just enough salt to grit 300km of roads, 900km fewer than normal.
Thousands of people hit the shops  in a last ditch bid to fill up in time for the festive season yesterday.
Snow is due to hit the county today with up to six inches expected (depending on which forecast you believe RTE/BBC/UTV), followed by more snow on Friday, Saturday and Sunday.
They will be accompanied by strong winds – and even thunder storms!
Schools are expected to close across the county tomorrow, Friday, while some may close early today. Schools can email us on info@donegaldaily.com with details, following the same procedure as earlier this month.
Donegal County Council confirmed the donegaldaily.com's exclusive story that there is a massive shortage of road salt in the county.
And while gritter drivers will bravely try again to clear main roads, secondary routes could remain treacherous over the weekend.
The Council staff will have enough grit to look after just 370km or our main roads – compared to 1,190 kms two weeks ago. They may also NOT grit at times this weekend as the county is once again screwed by the National Roads Authority.
County senior engineer Vincent Lynn said: "There is a shortage of salt and we are trying to manage what we have as best we can.
"These Arctic conditions are going to continue over the weekend and right through to the early days of next week. These are the most prolonged winter conditions in my lifetime."
British and Irish forecasters also fear more cold weather well into next week.
Last night Tesco in Letterkenny saw busy trading as consumers stock up for what could be a long weekend.