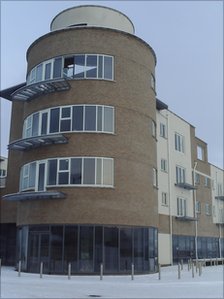 A NOTORIOUS Ballybofey development at the centre of the property collapse would not look out of place in areas of London's Docklands, a documentary by BBC Radio Four has said.
And the Navenny Place apartments are being used by media organisations around the world as an example of how Ireland went from boom to bust.
"There's nothing particularly executive about the town of Ballybofey in Donegal but away from the main street looms a three-four storey development that wouldn't look amiss in certain areas of London's Docklands," said the report broadcast on Thursday and due to be repeated this Sunday.
"It is home to 47 apartments – curved, swanky penthouses at the top, supermarkets and delis on the ground floor and an underground car park to house the swish cars belonging to the upwardly mobile.
"It also has have one particularly striking feature at the moment, it's all very quiet.
"The flats at Navenny Place remain unfinished and empty, with locals claiming it has lurched from emblem to eyesore, standing testament to the folly of the Irish building boom."
The site was once seen as being worth around €9.5m but went up for auction for just 11k per apartment last month.
It failed to sell amid protests from contractors. 
"Every time you pass by the building you feel sick," Mary McCroary, the subcontractors' spokesperson and financial director of Maine Heating and Plumbing told the BBC.
"Every contractor in there did their work and will be reminded of that for the rest of their lives.
"I stand to lose my job because of it. Do you not think our own banks are saying to us how are you going to claw back this 100,000 euros? And all because of 47 apartments where all the work has been done but we haven't been paid out."
The Report is broadcast again this Sunday 19 December 2100 GMT on Radio Four.