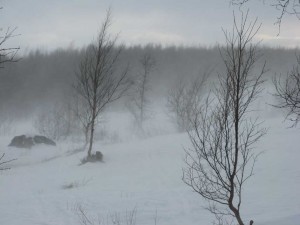 1PM: LATEST: DONEGAL is being battered by blizzards again this afternoon as Big Chill 2 continues unabated.
The worst hit areas were around Inishowen, the Finn Valley, Gaoth Dobhair and around Letterkenny. The windchill factor in some areas hit -10C.
Forecasters are now predicting there will not be a thaw until at least Christmas Eve.
There has already been reports of many crashes including a truck that has jack-knifed in Stranorlar while there has also been a crash at Market Square, Letterkenny.
Gardai are today warning motorists only to make essential journeys and some schools have decided to close – with many school events such as concerts having to be postponed or cancelled. A full list is in our news section.
Roads in and around Letterkenny are treacherous this afternoon – with 15 CMs of snow on the way this evening.
Roads around Bundoran, Ballyshannon, Ardara and Killybegs are poor this morning and motorists are told to avoid travelling south into Sligo.
Many roads across the Border in Derry, Tyrone and Fermanagh have been hit with heavy snowfalls.
The Barnesmore Gap is 'poor' – and there are large tailbacks through Stranorlar.
There are also now reports that Meearoy has been closed as more heavy snow starts to fall.
There is a severe weather warning for later today with forecasters predicting a prolonged and heavy snowfall this afternoon.
And there's worse to come – with more snow and ice forecast for tomorrow, Sunday and Monday – with Met Eireann forecasting a thaw on Christmas Eve, with rain on Christmas Day.
From midday today, Donegal County Council will suspend gritting services to hundreds of kilometres of local roads thanks to a lack of salt from the National Roads Authority which has been accused once again of diverting supplies to Dublin and the south of the country.
The weather will also hit local traders just when they need the business most – and anyone hoping to get presents online may find they won't arrive in time for Christmas Day.
The fall-out from the chaos on the roads is set to continue with local politicians accusing the Government of once again hanging the North West out to dry.
"The bottom line is that Donegal has been left hung out to dry again. Once again we have been left to fend for ourselves," said Councillor Jimmy Harte.
"In fairness to council officials and staff on the ground, they can only work with what they have. I have no doubt that council officials will be working flat out in the coming days.
"But the bottom line is that we simply do not have enough salt to treat all the roads and the responsibility for that rests with Minister Noel Dempsey.
"You can bet the Minister's own constituency is not short of salt," fumed Colr Harte.
A further weather update will follow soon…….